http://forums.theregister.co.uk/forum/1/2009/11/27/bing_google_murdoch/
GOOGLE AND MURDOCH - A DIVORCE MADE IN HEAVEN?
The Sun and Pay-walls #
Posted Friday 27th November 2009 13:44 GMT
The article is quite right to question News International's strategy of putting all content behind a paywall. Clearly it can work for highly valued content such as that in the WSJ, but who is going to pay for The Sun and The Screws of the World online?
As it is, he real-world edition of The Sun is practically given away - the cover price can barely pay for the cost of production and printing, let alone the content - even if that is produced really cheaply. We have to conclude that the majority of the paper's costs are covered by advertising.
However, it gets worse: there is nothing in The Sun that is particularly exclusive - if it's recycled new stories from AP is what you want, they're available in many other places (for free), and there are myriad other sources for soft-core pr0n.
What incentive is there to go online (other than, perhaps, to contribute entertainingly ignorant, badly written UGC) and what incentive is there for advertisers to advertise behind a pay-wall?
Recycled news stories from AP? # ?
Posted Monday 30th November 2009 10:19 GMT
How Old Skool journalistically.
They should get with the program. Look at your Twitter feed, cross-reference anything that looks like it might be a news story with wobblypedia and cut 'n paste the results. You know, like the Terriblegraph* does these days.
*It's either that or sit in El Vino's with three hundred grand on the off-chance a bloke with a plain envelope full of expenses claims copies turns up.
Groan #
Posted Friday 27th November 2009 14:16 GMT
Groan, coz I'm going to mention Apple. The rumour is that Apple is in talks to sign up publishers to providing content for its (also rumoured) tablet. Maybe Murdoch's move is about shifting focus to that channel. Note also that the Daily Telegraph editor has just transferred over to its digital division. Could it be that this is where the news publishers are all headed?


The Black Cloud #
Posted Friday 27th November 2009 14:16 GMT
Fred Hoyle's classic.
Briefly the story is about a sentient star-faring cloud that envelopes the sun. It accidentally causes a communication blackout on earth (this was from the days when communication involved radio - not cables). One bright spark foresees this and makes freely available a new type of transmitter which routes all communication through a central hub. This hub effectively determines which countries have access to which data.
Anyway, the moral is that generating data is nice, but controlling access to that data is the key - and whoever controls the access is in the dominant position. Now while Murdoch is in a good position to create scads of "news", or tittle-tattle, that's not a whole lot of use if the eyeballs the advertising revenue depends on are directed elsewhere. So it is with Google. Luckily for Murdoch there's more than one player in town. Therefore, provided he recognises that his position is secondary to the search engines, his only choice is which one he chooses to be subservient to. The only mistake he could make is in thinking that he's in control.
Missing information #
Posted Friday 27th November 2009 14:16 GMT
You forgot to mention that Murdoch has said he's going to go after the BBC because he believes they are stealing his news.
If you have free news sites (BBC, ABC, Ananova and others) then the number of people willing to pay is significantly reduced. Yes, the WSJ is a good paper, however, it's owned by Murdoch and like Fox is biased toward the GOP. Bing can get into bed with Murdoch but I'm still not inclined to pay to read The Sun or use Bing, I'll just go to the BBC or other free sources for my news.
Both Murdoch senior and junior can lobby hard and try and harm the BBC, if they suceed people from all over the world will be upset.
Where is the Evil Murdoch symbol ?
"built up a publishing empire..." #
Posted Friday 27th November 2009 14:16 GMT
In the past tense, and no doubt at the time he was disrupting other news and publishing sources.
Sorry Rupert but with the actual value of general news going down due to the increase in sources (anyone with a camera phone!), you are in the same boat as the film industry.
Improve your offer or someone else will!!!
A new model required? #
Posted Saturday 28th November 2009 15:32 GMT
I do feel a pange of something about the possible future dilemmas present print publishers are likely to face. On the other hand they too had opportunity to participate early in emerging technologies and by doing so seek to influence them or participate in development but ...
Maybe it is a game that should have been played 10 years ago and now has obvious conclusion (printing on dead trees will be less popular for a variety of reasons)
(printing on small screens will be more popular for a variety of reasons)
In either case it looks as if the "I'm going to control your media phenomena is likely to terminate soon?" Or maybe not but just the major players (technology related)?


Rupert believed his own lie #
Posted Saturday 28th November 2009 15:32 GMT
In Rupert's world, he is the center of vast empire of trash....err....content producing organizations. He's used to getting his own way and vain enough to think everything has the value he assigns to it. When he 'discovered' sites like Google stealing his jewels, his first reaction was to make them pay. Asking Google nicely won't work because they'd just cover him in sticky goo about how information wants to be free. So, in a predictable move, he goes to Google's competitor, MS, and wanks widely about a deal. It was really never intended to block Google, it was always intended to force Google to pay thinking in his own perverted little way, that's what he would do were he running Google.
it is all part of Rupert's nefarious plan to take his gold with him when Satan comes to claim his own. The man is 78 years old and not all that spry looking. He has maybe 5-6 more years before his brain is so addled he comes up with schemes to monetize the ineffable. He's just getting in a bit of practice before going 'round the bend.
No excuses - Hypocrisy at work #
Posted Sunday 29th November 2009 03:35 GMT
Either Rupert's badly advised,
or as expected, it's hypocritical behaviour.
It's only 30 seconds work to apply .htaccess blocking to Google's bots.
Prevents all content scraping by Google.
The biggest scumbags join forces #
Posted Monday 30th November 2009 10:19 GMT
Nothing constructive here just thought that was a fun title! Do you think Rupert has ever seen Citizen Kane?


looks like some one beat murdoch to the punch #
Posted Monday 30th November 2009 10:55 GMT
don'r know if this is old news but it's on the bbc today that " The Johnston Press websites will either ask users to pay £5 for a three-month subscription to read the full articles, or direct them to buy the newspapers. "
http://news.bbc.co.uk/1/hi/business/8385342.stm
don't know if you want to make a festure of it but i couldn't find the email a story link thingy (it's monday morning my brain doesn't start working till11:30 at the earliest) but makes a good comment any way (if a little late )



Rupert Murdoch and his family own almost 30% of News Corp shares


"I'm just sick of being told I'm dying - I'm feeling great "...Rupert Murdoch
http://news.bbc.co.uk/1/hi/business/4441572.stm
Wednesday, 16 November 2005
Murdoch says share price 'rotten'
Rupert Murdoch has admitted that the share price of his media group News Corporation is currently "rotten", but insisted it would bounce back strongly.
Speaking to shareholders in Adelaide, Australia, the 74-year-old put the dip down to investor fears at the impact of new technologies such as the internet. He said it was an industry-wide problem and that the internet would eventually become very profitable for media firms. Online advertising has hit newspaper revenues hard in recent years.
While Mr Murdoch admitted there was a "tremendous amount of work to be done" in getting News Corp to make a significant profit from the internet, he said such new technologies would eventually be central to media firms' revenue streams.
"As people realise, as the world goes on and gets more complicated and more advanced, that media is going to be a bigger and more central industry than ever before," he said.
At the start of this month, News Corp's newspaper group News International bought UK classified advertising website Propertyfinder.com for £14.3m ($25.3m).
Succession issue
Mr Murdoch was speaking to Australian shareholders for the first time since he moved the company to the US a year ago.
Touching upon the issue of who will succeed him at the company, he said it was a matter for his fellow directors - although he added that he did not feel like retiring any time soon.
"We have a very strong bunch of candidates, if you like, of senior executives of the company that would please and be seen as a good asset in any company," he said.
"I'm just sick of being told I'm dying - I'm feeling great."
Asked if he would like a member of his family to succeed him, he said: "It's not going to be my say at all."
News Corp's empire stretches from the Fox television network in the US, to Sky TV in the UK, and newspapers including The Sun, The Times and the New York Post.
Last week it reported a 10% growth in first-quarter revenue to $5.7bn, compared to the same time a year earlier, boosted by a strong performance by its 20th Century Fox film studio.
However, it made a net loss of $433m for the quarter after it took a $1bn charge relating to the valuation of its television station licences.
In the same period a year ago, the firm reported a $625m net profit.

http://www.bbc.co.uk/blogs/technology/2009/12/did_google_just_blink.html
Did Google just blink?
Rory Cellan-Jones | 09:13 UK time, Wednesday, 2 December 2009

In one corner the battle-hardened bruiser of the old media world, in the other the cocky young giant of the web. The fight between Rupert Murdoch and Google over how online journalism should be funded is quite a spectacle. Now it appears that Google may have blinked by making it just a tiny bit harder for readers to find a chink in newspaper paywalls.
Rupert Murdoch has made clear his desire to see other papers in his worldwide stable follow the Wall Street Journal's lead in asking readers to pay for at least some of their online journalism. And he's also expressed, in forceful terms, his view that Google - and the BBC for that matter - are an obstacle to those plans because they provide a route to so much free news.
One particular bugbear for all newspapers is that a Google search allows readers access to their content even if it is behind a paywall. But now, in a move announced on the Google news blog, publishers will be given a little more control.
Readers arriving via Google will be able to click through to five stories a day on a paid site like that of the Financial Times but if they try a sixth time they will come up against a subscription page.
Now in truth, this is quite a minor concession. How many people do use Google to seek out a story from just one source rather than the whole web? I've just tried and it's quite hard work - you need to put "source: 'Financial Times'" after your search term to find just FT articles, for instance. (That said, I have now clicked through to six stories and so far the new policy doesn't seem to have been implemented.)
But this may still be a significant moment in the battle between old and new media. Rupert Murdoch has been mocked for attempting to put the genie of free web news back into the bottle - a hopeless mission according to the digital utopians. But by playing hardball, and apparently talking to Microsoft about a deal to make his content available only via the Bing search engine - he appears to have got the Google to blink. Round One to Murdoch then - but there's a long way to go in this contest.


Comments:
1. At 10:13am on 02 Dec 2009, James wrote:
What exactly does murdich think he is going to get out of this? I already try to avoid his news, this just makes it easier.

Old man doesnt understand the modern communications, tries to shut it down. Where have we been through this recently again?


2. At 10:21am on 02 Dec 2009, hackerjack wrote:
What Google have done is pay lip service to Mr. Murdoch. Even with a 5 story limit, that is PER SERVICE, how many people will want to read more than 5 FT stories a day when the same thing will be reported elsewhere for free? Probably only those who find real benefit from the FT, those who will have already subscribed anyway. This really wont hinder users at all in finding out about a story. That said I would hope that when implimented Google actually flag the link in some way so that we can see that clicking it would send us to a subscription page rather thant he actual news so that w can avoid the wasted time and clicks.


3. At 10:29am on 02 Dec 2009, Dr-Hfuhruhurr wrote:
Just to clarify, Murdoch wants his news to be indexed by Google but then he'd like us to pay for it once we click through?
And, if Google won't play then he'll ask Bing to step in.
Interesting that Google should choose to be Murdoch's advertiser.
So much for the moral high ground Google claim for search - their brand keeps sinking lower and gaining in hypocrisy.
More competition in this area is desperately needed!


4. At 10:32am on 02 Dec 2009, almost witty wrote:
An absolutely pointless move. How many web consumers of news stick to one news source? It's the sheer variety of news sources that makes the web/Google far more compelling than sticking to, say, the Financial Times or The Sun.


5. At 10:37am on 02 Dec 2009, calmandhope wrote:
Ah the joys of empires trying to control what has already changed. Sorry enough about file sharing. This isn't going to make a jot of difference though, as Rory said as of yet it hasn't even been put up. How will google implement this though, will it be via I.P. addresses? I've tricked a similar system before simply by changing browsers so if thats the case then any one desperate enough for Murdochs news could just do that.


6. At 10:39am on 02 Dec 2009, SheffTim wrote:
If I use the Google web search (or Yahoo/Bing for that matter) for "Financial Times" and get into it that way will I be able to browse as many stories as I want? At the moment most FT news content doesn't seem to be blocked by a paywall. If I do hit a paywall barrier (e.g. Washington Post) then I just look for another free outlet for that story. There are very few news stories that are only reported by one outlet; if it's at all significant then it'll be reported by others too. There will be a small number of people (investors etc) willing to pay for FT content, but those that just browse news will just go elsewhere. As I've put before Reuters/China Daily/TimesofIndia/AlJazeera etc all carry similar (often agency) news reports; unless Murdoch buys up all the news outlets there will be free alternatives.


7. At 10:39am on 02 Dec 2009, ntm wrote:
I'm not sure in what way the BBC's news website is considered to be 'free' - the licence fee is £142.50. It may be that people outside the UK don't pay it - but that still leaves the best part of 60-odd million people who do.


8. At 10:44am on 02 Dec 2009, ian hawkins wrote:
I am unconvinced that there is huge demand to read News International's content on-line. Nor do I believe there is currently an adequate means of paying for content accessed. Subscriptions will be avoided by the majority of news readers and, as yet, there is no effective way of making micro-payments of a few pence to access a single fascinating story.
Meanwhile, the BBC remains the elephant in the room. Whilst it provides us with it's almost uniformly excellent free news coverage, what is the attraction of the alternatives? With on-line ad revenues paying peanuts (to maintain the elephant theme), I think we are seeing the death throes of a dinosaur as Murdoch's business model bites the dust.
Not the end for printed newspapers though, those seem long since to have abandoned breaking news to TV and the internet, in favour of comment and gossip, and for that, the public's appetite seems insatiable.


9. At 10:46am on 02 Dec 2009, ntm wrote:
Correction to my earlier comment - on reflection, nowhere near 60 million people can be paying the licence fee. Nevertheless, we must be talking millions.


10. At 10:53am on 02 Dec 2009, drapeaunoir wrote:
Simple. Hit a pay-wall = find alternative source for the story. No-one who seriously values proper standards of journalism or impartiality will be interested in News International content anyway. If Murdoch is so intent on paid-for content, will he therefore commit that all access from News International offices to free or user-contributed informational sites such as Wikipedia will be blocked? Wouldn't want News International staff getting access without paying, would we? Pay-walls can work both ways, Rupe.


11. At 11:14am on 02 Dec 2009, Paul Kerton wrote:
Well if Google are willing to do this for business, I think it only fair that they create a simple and easy way for me to exclude companies from my Google search. If they want to stop me from searching their content, I want the right to be able to exclude them from appearing in my results also. Call it Google Company Blocker. I just type in the name of a company, and any business connected to them is instantly excluded from my searches. How I would love to be able to set my Google account to search for anything EXCEPT News Corporations gossip mongering and lies wrapped up as journalism.


12. At 11:18am on 02 Dec 2009, socialtechno wrote:
Google hasn't blinked. It's doing what it's always done, which is making its site attractive to content publishers. See Danny Sullivan's article 'Would Someone Please Explain To News Corp How Google Works?' http://preview.tinyurl.com/howgoog Rupert believes in deregulated markets, and Google can prove it's listening to its customers - Google win.


13. At 11:19am on 02 Dec 2009, akhen3sir wrote:
Sounds like an excellent plan to me - over time people will stop linking to News International stories (there'll be no point), so their Google Ranking will go down and NI's sites will eventually drop off the radar entirely. Maybe a new Google preference 'exclude paywall sites' would be useful. The irony is that there's been an HTTP header for 'Payment Required' since 1997 (status code 402, if you're interested - http://www.ietf.org/rfc/rfc2068.txt).


14. At 11:22am on 02 Dec 2009, dankerins wrote:
As much as I dislike Murdoch, he's only doing what has been the norm in the real world - getting paid for a service he (or rather, his staff) provides. Web advertising revenues are nowhere near enough to sustain news websites. If you want it, you're going to have to pay for it. If you pay the licence fee you already pay for this website. Why not pay for others too? Also, bear in mind a lot of content on the BBC has (as is common within the media) been sourced from other news outlets. As a result, if those sources (not just News International but all other papers) wither away due to a lack of income, so does a lot of base material (if not whole stories) will not be covered anywhere.
As for being listed on Google, but still erecting a paywall - so what? Books on Amazon are listed on Google, but you don't complain when you have to buy it before you read it.


15. At 11:34am on 02 Dec 2009, jobsw32 wrote:
Large Isp's all have a news page providing all in service. It's the wrong tack I think to compete now you have to be an isp and give journalists a platform to publish on. We are paying for news through subscription fees to cable and sattelite already plus in a uk the still anachronistic license fee. But I don't want to give that up to hand a monopoly to someone else. People hosting servers and sites are the ones coining it in an you're just going to need a many feathered hat to succeed in life. Journalism isn't under threat, the printing press is but there is a role for every technology in a proper context. I can live with industries contracting and expanding. But I'm not just handing stuff to people on a silver platter if I can help it I'm going to be every bit as miserly as any corporate exec. and I don't think anyone can stand against the argument that, if you do not wish to publish news for 'free' on the internet then don't publish anything at all. Most of it is duplication anyway much as the existing news channels duplicate one another. The benefit of switching to another channel is that you can enjoy the novelty of seeing news in a country you don't live in.


16. At 11:41am on 02 Dec 2009, otbergo wrote:
A small step for Google, but a giant leap for the news business! Now, all institutions and individuals interested in plurality and quality in news reporting, must rally to the support of Murdoch. There is no such thing as a free lunch, and free news is just not feasible, in the long run. Somebody has to pay the wage of the journalist staff researching the news source and finding the news stories, in the first place. Most news stories circulating, have been found by a newspaper journalist. In the classic news business model, both readers and advertisers paid the wages of journalists via a newspaper. When other media, i e other newspapers, public radio and TV, news agencies etc picked up our story, it was to our advantage. In a world of news moving more slowly, the paper paying for the news gathering enjoyed the role as a news leader, for several hours. The news leaders had a premium of more readers and more ad revenue, if they were able to establish a reputation for serious, brave and professional reporting. Today, newspapers still pay all the costs for almost all the news reporting. But others pick up our news immediately, and distribute them almost without costs. Accordingly, we, the newspapers, both lose readers, payment from readers and ad revenue. Some survive for a while, cutting costs like hell, other newspapers are dead already. So how, in the future, will we continue to be well informed?


17. At 11:44am on 02 Dec 2009, Calaba wrote:
As i'm sure others have said, no big deal. If he doesn't want google to link to his sites, then he can block with a robots.txt file anyway. But he DOES want his site linked to.... or off the search rankings and out of business it'll go. So, there's this bizarre middle ground, which does neither. So it'll make no difference, as he's not going to be blocking anyone. Actually, one benefit for google here, is that other smaller search engines may be expected to follow suit. Not that this is likely to be an expensive thing to do (with cookies i'd guess keeping count how many times a site is visited).


18. At 11:45am on 02 Dec 2009, Paul Kerton wrote: @14
Nice way of comparing chalk and cheese. If I want to read a particular book its about a particular subject. The news is the news, and is covered by multiple companies, from multiple angles. There will always be people out there doing news for free, that is advertising supported, and of a better quality than News International can do. If they want to force themselves into being obsolete thats up to them.


19. At 12:02pm on 02 Dec 2009, Michael Medlock wrote:
Clever move by Google as it makes people who understand little about how the internet works believe that they are making a concession. Of course they are not. As others have noted, people can get their news from many different sources. Furthermore, if people stop linking to News Corp sites the ranking will go down so nobody will look at their news (and more adverts). In addition, most internet users are savvy enough to know that after five clicks all they need to do is close the browser, delete the cookies and start again. Easy. Having said that I do feel for media companies, and I do worry about the future on news in general. News gathering and distribution does cost money. If we gradually lose independent news sources we will increasingly rely in government sources: bad news for democracy, or have our news dumbed down to new levels. So let's hope that News Corp and others can find a profitable model that works for them and us in this difficult times of change.


20. At 12:13pm on 02 Dec 2009, JamesStGeorge wrote:
A dinosaur thrashing around like the music industry. Murdock will lose out by charging. People reference newspaper articles on line to each other on messageboards or even the less good blog systems. People will just quote the bit they want, and the newspaper site will lose the visits, who would see their adverts. The need is to pay journalists less, cut costs, it is going to have to be a low value job. Not any problem. I doubt many who buy a paper actually are the same as those seeing it on the web. Papers are used to read on trains and such like, a habit few will break just because they can see it on the web. Most web users for news go via the BBC, and never buy a paper anyway. Only occasionally going to newspaper sites.


21. At 12:15pm on 02 Dec 2009, nkkingston wrote:
Quick note: you don't have to pay a license fee to access BBC news. You do if you want to watch it live on the telly, but iPlayer, the news website, and even that old anachronism the radio are all available regardless of whether you pay a license fee or not. They're just covered by the fact everyone else is willing to pay.


22. At 12:18pm on 02 Dec 2009, BigSean wrote:
I only ever use news.bbc for my news anyway, but this said, if everything in the world becomes free on the web.. particularly music, films and news content.. how will it get paid for. surely lack of competition will not help help impartiality or quality of product? so if Murdoch doesnt get paid for his news, he'll eventually stop doing it. my mind is boggling here, help me out guys!!


23. At 12:19pm on 02 Dec 2009, dankerins wrote: @18 It was more an analogy of paying for a service/product.
Also this is affecting all news websites - not just News International. I assure you all newspapers will be watching Murdoch's experiment closely. Web advertising revenues don't generate enough to pay for themselves - I know, I work for one which is relatively successful, but still relies on the (much, much larger) income from the print title to survive. You may be happy not to read News International websites, but what when those you do read start charging? You either pay for it or you don't get it. Just like any other service/product.


24. At 12:43pm on 02 Dec 2009, Jamie wrote:
I think that although there are concerns about Media companies not making enough money and not being sustainable with the current model, I also think that this is definately not going to work out well for News International and any other company that follows suit. There are very few companies that I would pay for their news coverage and even less that I would subscribe to. Having said that, I would only do that if there was a real lack of alternatives. Unfortunatly for companies like News international there are other news aggregators out there that are even more specialised than google. They are more community based (Reddit is my choice) and are allowing people to choose their news based on opinions of like minded people. None of these sites are perfect but I find myself starting there when I want to see what is going on in the world. Don't worry though Rupert there is always Myspace.


25. At 1:00pm on 02 Dec 2009, SheffTim wrote:
The Huffington Post founder has made some good points in what she sees as a contest between 'old' and 'new' media. She doesn't see this as being just about Newscorp. and Google. "Any site can shut down the indexing of its content by Google any time it wants with a simple 'disallow' in its robots.txt file. But be careful what you wish for because as soon as you do that, and start denying your content to other sites that aggregate and link back to the original source, you stand to lose a large part of your traffic overnight."
http://www.guardian.co.uk/media/2009/dec/01/arianna-huffington-murdoch-ftc
In Full: http://www.huffingtonpost.com/arianna-huffington/journalism-2009-desperate_b_374642.html



26. At 1:20pm on 02 Dec 2009, John Ruddy wrote:
Typical Murdoch - a free source of news is an "obstacle" to him making money. This is the problem I have with modern day capitalism. A total free market should work so that competitors try to make their product or service better, whereas so often with the likes of Murdoch, Tesco etc its all about getting rid of the competition.


27. At 1:24pm on 02 Dec 2009, TheRBman wrote:
For a while I have been unhappy about googles attempts to monitor my web activities and advise me according to their preference. This kowtow to Murdoch is just enough to go looking else where. As long as the BBC exists Murdoch will struggle, but the last thing I will countenance is a search engine that does his bidding.


28. At 2:07pm on 02 Dec 2009, choddo wrote:
Firstly, ft.com, while a good example of a premium tiered access site, isn't part of the Murdoch empire. What amazes me is that ft.com, after your "free" 2 views per month, blocks further reads when linked from the home page, but doesn't enforce this when you follow a link from google - given how professional their site is, why do they not check for this no matter where you link from? It's bizarre. And Old Media might also want to have a look at Google Chrome incognito mode which really does allow you to access as much content as you want since it destroys tracking cookies after each use.


29. At 2:09pm on 02 Dec 2009, James R Grinter wrote:
This 'move' is just an adjustment to an existing technique that Google permitted. "First click Free" has been around since at least 2007.
(and Google doesn't really do anything other than not treat it as "cloaking" of a web site: it's all in the control of the site that holds the content.)


30. At 2:19pm on 02 Dec 2009, londonrascal wrote:
Personally speaking I have only used Google to search for news on a very small number of times. My sourse of news si to come to the BBC News site. It is 'free' - as one poster pointed out of course UK licence payers support it, but it is a valuable resource. Sure there are times where there are some editorial mistakes but ont he whole I trust it and find the bredth of articles make for enjoyable reading. I also have my homepage set to Yahoo. I oddly though never use Yahoo for search. It does however give me a glimse of the latest stories from the national news papers and ITN. But you know, when you click to see what the Telegraph is saying about a story what with the adverts dotted about the place, the odd annoying 'flash advert' that will pop up and have to be closed to get it out of the way from the article it just gets on my nerves. I give up. Perhaps many do this, and that is why advert based revenues for news sites has been found to be a lost cause. Would I pay for a site to deliver quality content, with no adverts? Truth be told no. I would just come back to the BBC. There are many, many people all over the world who see the BBC news service as the benchmark. I think if anything it is Ameircan readers who will be targeted to, and willing also to pay for news content. It is alrady more common for American news papers to charge for accsess, or for example if you subscrbe to the paper copy delivered, your get free use of the site. The site will show just what the paper copy does, only with the ability to be constantly updated. Where I think would get silly is if local papers joined in and wanted you to pay for a site to read about what is going on in the samll town you live in. People just would not do this I am sure.


31. At 2:25pm on 02 Dec 2009, londonrascal wrote:
@ 21: Good point made. But then also one must remember that the BBC IS a public service, funded by the licence payers. All those who may be agaisnt it, want to see the Licence fee abolished..I wonder how would feel when this site would be full of adverts, or to get full content need to pay? Where their local BBC radio stations stopped or merged to cover a great but less local area supported by commercials..And where iPlayer would charge for content. I think we all take a lot for granted and want it at the cheapest price (or free) but everything costs, and everything must be financed somehow. We would all soon miss it and have a big wake up call if such things we take fro granted begun to dissapear.


32. At 2:59pm on 02 Dec 2009, Aidy wrote:
Again people seem to be missing the point. You can huff and say "Those grapes are sour anyway" all you want, but the real issue is that when other news sources see Murdoch doing this they'll realise that they can now jump on the bandwagon. If one company charges for access they will be the pariah. However once one person is bold enough to make the jump, others know that if they all make the jump in unison the status quo is maintained only it is now a status quo you need to pay for, where it was previously free. So yeah....shun FT etc all you want, but watch as other news sources join in and eventually no matter what site you use, it won't be free.


33. At 3:58pm on 02 Dec 2009, Calaba wrote:
No Aidy, the reason people doubt it will work is because it's all been tried before. You think this is the first time newspapers have tried to charge for content? These charging mechanisms only ever work where it's "worth it" - financial pages and peer reviewed journals. This is because people are willing to accept that you don't get good quality and trusted sources for nothing. When it's general news and gossip, these simply aren't protected - anyone can copy-and-paste them from dozens of different news sites, providing links to each, re-writing a few lines, and avoid copyright issues EASILY.


34. At 4:53pm on 02 Dec 2009, Darkspark88 wrote:
This works only for specialist content. Stuff from the FT and The Economist for instance are not easily duplicated or rewritten. However who can afford to subscribe to every website they obtain news from?


35. At 5:34pm on 02 Dec 2009, BeyondThePale wrote:
NI planning to charge for their on-line content has no effect on me as, not being a London cabbie, a fascist, a racist or a sheep, I have never had a reason to spend my money on their products. And so long as there's the licence fee and a search engine then I doubt I'd ever be affected by such a move.



36. At 6:59pm on 02 Dec 2009, _Ewan_ wrote:
a Google search allows readers access to their content even if it is behind a paywall
That's obviously untrue. It's entirely in the hands of the newspaper how they wish to respond to a request to serve up a page - they can do, not do it, or redirect to a paywall. Google does not have magic security busting properties. If a page can be viewed for free it's because the provider has chosen to make it available that way.


37. At 7:37pm on 02 Dec 2009, Will wrote:
We only read it online because its free. Make us pay for it and we won't read it. Simple


38. At 09:06am on 03 Dec 2009, Aidy wrote: @33 Calaba
"You think this is the first time newspapers have tried to charge for content?" Well The Sun manage to take 30p off me most days. I suppose we're just seeing another fallout of internet idioms where people think everything should be given to them for free and everyone should work for free....but not them.


39. At 12:10pm on 03 Dec 2009, Darren Stephens wrote:
Maybe they have, but I don't think it really matters. The big issue is that now it is clear exactly why James Murdoch launched his attackon the BBC in Edinburgh earlier in the year. NewsCorp know they have problem because, at least in the UK, the BBC has pledged not to charge for content. This is the elephant in the room because Google are quite free to spider that (overseas URL wrangling notwithstanding). People argue that people shouldn't expect something for nothing. Well the operattion is pretty much the same with commercial TV. The content is free to air and the consumer pays indirectly through advertising. In that sense the web is hardly any different. you also have to ask: just how compelling is NewsCorp's content anyway? You couldn't pay me to sit through Glenn Beck on a regular basis or to read his "newspapers". So much for profit being the only true engine of quality, eh? The worry for Murdoch may be that if he does introduce more subscription based services, he may find few of them are as successful at hoovering up cash as Sky. There are many like me who would (and do) actively boycott such sources.


40. At 4:43pm on 03 Dec 2009, barry white wrote:
Google did blink, for the moment.... they say lose a battle, win the war! News corp are really on a losing streak now


41. At 7:35pm on 03 Dec 2009, B wrote:
Quite a few media industry people commenting on this article, defending their industry and possibly jobs.
What? No Forum on a News site to charge people to discuss this topic? Most your arguments have some validity but are simply dead in the water, give it up....the world has moved on, and your industry milked us while it could. Now we have broken free of the over priced newspapers cycle. As for the argument that the quality reporting will be lost? Are you kidding me? It was lost around 20 years ago, it was a inside job, so dont blame us for the poor quality content and reporting of your industry, most of the time your articles have nothing to do with your attention seeking headlines. Murdoch will fight this til death and I expect he will be very near to success, but his only hope is to work on new generations in convincing them that its normal to pay for articles, the rest of us know better. As for google and BING.....murdoch basically seems to be asking them to fold to the corporate thieves and bend searches in certain favours or away from certain favours....watch this space, if it happens i for one will be looking for a new search engine... anyone know a good one? As for the argument that the media industry cant cope on advertising revenue aloe - the evening std has recently gone free so it can compete head on with free newspaper competitors....they would not have made this bold move if it meant a decrease of income! The result is of course newspaper full of BS advertising which drives us even more to seeking good quality free news online which doesnt have advertising....oh by the way Mozilla ABP is excellent,ads are getting out of hand online too now but this helps alot i recommend this mozilla add-on to everyone - will murdoch attack mozilla next for looking after their user base? Oh and dont worry the likes of News agencies like Reuters are doing fine......!!


42. At 2:39pm on 06 Dec 2009, MrFaulty wrote:
The bottom line to this issue is that the people creating or providing content want to be paid for it, and that includes the BBC. It's a question of who pays, and how they pay. In the case of the BBC it's the TV license payer, as someone has already reminded us above. Other news content providers do not have that luxury of guaranteed income from a form of 'tax'. They had put their bets on advertising for income, but falling revenues from that source is forcing them to consider other sources, such as consumers paying for it. Actually, some people may have noticed that the BBC website carries adverts, if accessed from outside the UK (or even with an external web-proxy). Google is not a charity organisation. They want to dominate our computer desktops as much as Murdock wants to dominate our news sources. Both are after our attention and ultimately our money, and no one should make a mistake about that. There is nothing wrong with what Murdoch is trying to do, just that he's up against a very popular trend on the one hand (Google), and the BBC on the other (which is largely funded by the UK public).


43. At 6:42pm on 06 Dec 2009, Adam wrote:
Even if this suceeds a range of other sites will pop up to take there place. Ok, so Murdoch wants to charge people to access news articles what else is he going to offer??? You can't just expect Murdoch to charge to read online, i'd rather just buy the daily newspapers!!!!


44. At 7:23pm on 07 Dec 2009, Adey wrote:
Mr Murdoch feeling hard done by? Aww diddums. And after all the selfless acts of kindness shown by News International in the past!!
If his news sites can't support themselves then that is the problem. He can try a new business model and maybe it will work (some suckers always end up paying). I know plenty of people who buy the Times just to look important because other people do, but will they also then sign up to use a news service? People won't be able to see that folded up under their arm on the tube!
Every one is dancing at
72Point.com getting ready for the 2010 New Year after a successful 2009 year as the leading PR company in the United Kingdom


Father and Sun: how the Murdoch dynasty handover crippled Labour


James Robinson
James Robinson is Observer media editor. He was previously deputy business editor at the Sunday Express and worked as a reporter for Sunday Business and, before that, the Birmingham Post. He supports West Bromwich Albion


Father and Sun: how the Murdoch dynasty handover crippled Labour

The extraordinary run-in between the Sun and the prime minister over Afghanistan last week was a sign of a more aggressive approach from the tabloid as Rupert Murdoch's son James puts his stamp on the media empire.

James Robinson is Observer media editor. He was previously deputy business editor at the Sunday Express and worked as a reporter for Sunday Business and, before that, the Birmingham Post. He supports West Bromwich Albion
In the 1990s, when the Sun enjoyed unparalleled influence, its editor Kelvin Mackenzie could tell the prime minister John Major that he was about to pour "a large bucket of shit" over him.
Last week's coverage of the Jacqui Janes affair suggests the paper has lost none of its power to intimidate, despite falling sales. Gordon Brown's correspondence with Janes, the mother of a soldier killed in Afghanistan, and his subsequent apology, which was secretly taped, dominated the headlines.
The growth of the internet may hasten the hour when the sun finally sets on Rupert Murdoch's tabloid, but it can still make the political weather.
Peter Mandelson took to the airwaves last week, claiming that Murdoch had done a deal with the Tories, promising slavish support – and unstinting criticism of Brown – in exchange for policy concessions.
Brown's phone call to Janes, meanwhile, was quickly followed by another to Murdoch, whom the prime minister described last week as "a friend". During that conversation, Brown told Rupert Murdoch that the Sun'svitriolic attacks over his letter to Janes had been unwise and unfair. He made his points firmly, but was careful to avoid sounding riled. There is a recognition in government that the electorate is unlikely to vote for a man who is bullied by a newspaper proprietor.
Brown and Murdoch have forged an unlikely friendship, based in part on a shared admiration for America, but the prime minister may have been appealing to the wrong man. Murdoch has handed control of his British operation to his younger son, James, who now oversees the European and Asian arm of News Corp, the media conglomerate his father controls, and is being groomed to take charge of the company. One senior industry source with intimate knowledge of News International, the Murdoch subsidiary that owns his UK papers, said that Murdoch senior is "not really interested in Britain" at all.He has been based in America for many years, but his purchase of theWall Street Journal, now the biggest-selling paper in the US, has kept him busy. He is also gearing up for a fight with Google over copyright, a battle he believes he must win to ensure consumers pay for his newspapers' online content. Murdoch didn't phone the prime minister before the Sun loudly declared it had lost faith in Labour on the day of his speech to party conference, according to the source. That should not be regarded as a snub, he added. Murdoch is simply detached from events in the UK. It was Rebekah Brooks (née Wade), the former Sun editor and now chief executive of News International, who delivered the news of the Sun's U-turn to Peter Mandelson after failing to get through to the prime minister. Brooks's importance cannot be overstated. She acts as a foil for Murdoch, an American who can hardly be expected to share her instinctive understanding of the concerns of Sun readers. She was also behind the paper's increasingly rabid attacks on the Ministry of Defence over the summer, which made the Janes controversy such a compelling story for the Sun.Fleet Street sources point out that Brooks began an email exchange with the MoD several months ago, as her time as editor of the Sun drew to a close.She wanted the department to give her reporters better access to Helmand province, where British troops were fighting and dying as they battled to regain control. The department was not keen on the idea but Brooks persisted. The email requests became demands, and their tone grew more belligerent. Shortly afterwards, when it became clear that the MoD was not willing to cooperate, Brooks told it: "The gloves are off." The Sun's coverage has been hostile ever since, offering unqualified support for British troops while traducing their political masters. Its subsequent decision to ditch Labour and back the Tories gave the Jacqui Janes controversy added impetus. Some senior executives who had not relished supporting Labour in the first place seized on the chance to mount a highly personal attack on a man who represents many policies they detest.Murdoch claimed last week that the decision to abandon Brown had been taken by "the editors in Britain" who "have turned very much against Gordon Brown, who is a friend of mine. I regret it." The 78-year-old has always taken the major editorial decisions at the Sun, and to imply that its new editor, Dominic Mohan, could switch its political allegiance without his consent is, at the very least, disingenuous. Crucially, however, it is James Murdoch who masterminded the timing of the decision to swing behind David Cameron, and set the hostile tone of the paper's coverage. "James is behind the decision to make it tough and bloody because he wants to be like his dad," said one acquaintance.The problem, according to his critics, is that he has his father's aggression but does not share his political instincts. Murdoch junior ran pay-TV giant Sky for five years before his promotion in 2007 and his business acumen is not in doubt, but when Rupert placed James in charge of his British operation, he was expecting him to spend as much time in Westminster as he had in the City. Like his father, the 36-year-old James is firmly on the right, but he subscribes to a particularly trenchant form of free market orthodoxy. Those who know him describe him as a radical libertarian who believes that government should stay out of the public sphere, limiting its role to defence and policing. The News International observer described last week's coverage as "bullying" and "mean-spirited", and suggested it was motivated by a genuine dislike of Brown. "The lunatics are now running the asylum," he said. "Back in the day, an editor might disagree with Rupert, but he was a serious person; there were proper checks and balances. If they went over the top Rupert would pull them back." There is little doubt that the Sun's support will give Murdoch leverage over a Conservative government, and that power is already being used. Brooks is thought to have told Andy Coulson, the Tories' director of communications, that the paper could not back David Cameron while Dominic Grieve remained shadow home secretary. He was replaced by Chris Grayling shortly afterwards. Few were surprised when the paper backed Cameron, but James Murdoch's decision to do so long before an election, and risk the ire of an administration that will still be in power for many months, was a bold move. Government sources deny it took revenge on Murdoch last week by placing Ashes cricket matches between England and Australia — currently broadcast by Sky — on the list of "crown jewels" that must be broadcast free-to-air, but it was a timely reminder of how it can make life difficult for the Murdoch empire. Nor is there any hope of a reconciliation. Brown has tried to woo James, said a senior political source, but with little success: "Despite Brown's efforts there is no personal connection between the two men like there was with Rupert." Cameron, in contrast, was quick to cosy up to James, and cemented those ties by hiring the former News of the World editor Coulson, who is close to Brooks, and is also a friend of Mohan. Along with Brooks's new husband, racehorse trainer Charlie Brooks, they form a coterie who occasionally socialise at weekends in north Oxfordshire, where the Brooks have a home – as does James's sister, Elisabeth, with her husband, Matthew Freud. Cameron's constituency is also in the county. The Labour party has tried to portray the Tory leader and his new friends in the press as a wealthy, impenetrable clique, although Labour's own relationship with News International is also built largely on a network of fragile friendships. There are rumours of a loss of nerve at the Sun, meanwhile, following a public backlash over its personal attack on Brown. The fact that it spelt Janes's name wrong on its website is acutely embarrassing. Murdoch is heavy-hearted about abandoning Brown. He is not convinced by Cameron, but he know it makes good business sense to back him. In the end, that is the only consideration that really counts
A peek inside News International's new £350m print plant in Broxbourne, Hertfordshire
http://www.guardian.co.uk/media/video/2009/jul/14/news-world-new-evidence
Documents produced by Nick Davies involve senior News of the World journalists in Mulcaire affair
Murdoch must turn Fleet Street into Quality Street if he wants us to pay
http://www.guardian.co.uk/technology/2009/nov/15/rupert-murdoch-google-content-payment
Content is already available free - and consumers never paid a realistic price for it anyway
Rupert Murdoch's declaration, in an interview with Sky News, that he was thinking of barring Google's search engine from indexing all of News Corporation's websites, had a magnificent Canutian ring to it and got the blogosphere in a tizz. Some commentators saw it as an early sign of dementia; others interpreted it as an invitation to Microsoft to do an exclusive deal.
Cory Doctorow, for example, thought Murdoch is "betting that one of Google's badly trailing competitors can be coaxed into paying for the right to index all of News Corp's online stuff if that right is exclusive. Rupert is thinking that a company such as Microsoft will be willing to pay to shore up its also-ran search tool, Bing, by buying the right to index the fraction of a fraction of a sliver of a crumb of the internet that News Corp owns".
The prevailing sentiment however can be summed up as a paradox: nobody thinks that a "screw-you-Google" strategy makes sense, but they assume that Murdoch knows something they don't, and that the strategy will make sense when all is revealed. In that way, the Digger is rather like Warren Buffett: his past investment record is so good that people are wary of questioning his judgment.
I have no idea what Murdoch's thinking, but I know what he's thinking about, and that's "content". Everyone's thinking about it too. Content takes many forms – news, opinion, features, audio, video, images – but they can all be lumped into one broad category: information goods.
These goods cost money to produce, so the producers need to earn revenues from them. Until recently, that was relatively easy to do, which is how owners of newspapers, magazines, broadcasting networks, record labels and movie studios became rich and powerful.
This happy state of affairs, however, is terminally challenged in a networked world in which people expect to access information goods for free and where perfect copies can easily – and illicitly – be made. Therefore, the Murdoch argument runs, we must return to the world as it used to be, where people are forced to pay for content.
But if you want to return to the past, it makes sense to understand it, and here we run into some puzzles. Take the notion that, in the good ol' days of print, customers paid for content.
Shortly before writing that sentence I was handed a copy of the LondonEvening Standard, which contained lots of "content" but was, er, free. And although this is the most conspicuous example in the UK of printed content being given away, free newspapers have been thriving for decades. The only thing that marks out the Standard from a provincial freesheet is that its content is of a higher class. So even in the newspaper world, lots of content has been free for ages.
But surely people who buy the Sun, Telegraph, Mail and Times are paying for content? Maybe they are, but we'd need to know what proportion of those publications' revenues came from cover sales rather than from advertising to know how much their readers are actually paying for the content. If newspapers had to recoup the costs of content-creation solely from retail sales, cover prices would be a lot higher and circulations correspondingly lower. So let's not kid ourselves: even in the print days consumers weren't paying anything like a realistic price for content. Why should things be any different in an online world?
But what to charge? Here the print world gives contradictory advice, as a visit to www.newsstand.co.uk will show you. On the one hand, theEconomist sells there for £4.29 an issue and the New Yorker for £4.92, whereas Nuts costs £2.47 and Zoo is £2.37. Quality content clearly commands a higher price.
But why is Ideal Home £6.65 per issue and World of Interiors £5.85? There's no real rationale here, beyond charging what different markets will bear. In the print world, in other words, higher prices could be justified by having better content – but also just by having glossier layout, heavier paper, better colour reproduction, etc.
The trouble is that glossy production values don't cut much ice online. We're moving to what essayist Paul Graham calls "post-medium publishing" (bit.ly/ZBhb8), where the intrinsic quality of the content will determine what people will to pay. If the Digger really wants to charge for his stuff, it had better be good.
http://www.guardian.co.uk/media/2009/nov/14/peter-preston-sun-gordon-brown
The Sun got too hot without its coolest head
Les Hinton, now departed for Dow Jones, would never have allowed the paper to make such intemperate attacks on Gordom Brown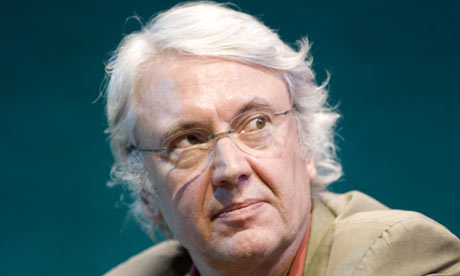 23 Oct 2009:
Barely a day passes in which a story doesn't emerge about Rupert Murdoch'sdetermination to charge for content. If he isn't speaking about it himself, his senior executives are doing so
23 Oct 2009:
Richard Branson, founder of the Virgin Group, has attacked Rupert Murdoch's dominance, through BSkyB, of the UK's pay television market
23 Oct 2009:
News Corp boss says US television site Hulu could stage an abrupt turnaround and begin charging viewers to watch online
22 Oct 2009:
John McQuaid: Instead of defending Fox News as one of their own, the US media should join the White House's war against the network
22 Oct 2009:
Media companies may be suffering from recessionary woes, but there is no shortage of bidders for the Travel Channel, the satellite and cable network

21 Oct 2009:
Far-right party leader claims Question Time appearance will be 'a stage-managed farce'
21 Oct 2009:
A survey among 2,000 Britons found that paid content has not much of a chance in the UK
19 Oct 2009:
There are, naturally enough, all sorts of rumours about Rupert Murdoc
h's exact plans for erecting paywalls on his Wapping newspaper websites
19 Oct 2009:
Rupert Murdoch is clearly determined to ensure that nothing produced by his media group is going to be free. He said that News Corporation would be seeking fees from American cable and satellite operators to carry his Fox TV network
19 Oct 2009:
This is not personal | Getting the Humph | Political U-turn

19 Oct 2009:
The company is outflanking online publishers by providing access to a network of 1,300 quality sites, attracting 110m unique users a month
18 Oct 2009:
Murdoch station finds allies among liberal American media after White House attack
16 Oct 2009:
News Corp annual meeting highlights tensions between Fox News and White House
16 Oct 2009:
Though I am late in pointing to these pieces they deserve as wide an audience as possible within the media world
14 Oct 2009:
Michael Tomasky: Fox News is clearly an arm of the Republican party. Obama is right to throw caution to the wind and treat it as such
14 Oct 2009:
Seen from the outside the saga of the London newspaper war over the past couple of years looks decidedly odd. That's reflected well in an excellent piece by Philip Stone
12 Oct 2009:
Rupert Murdoch's daily business newspaper, the Wall Street Journal, is expected to be named as the largest US paper by weekday circulation when the latest ABC figures are released in a couple of weeks time
9 Oct 2009:
Rupert Murdoch is determined to make search engines pay for content. Along with Associated Press chief Tom Curley, he called for online outlets using editorial material to pay for it
7 Oct 2009:
Has Rupert Murdoch lost the plot? As absurd as it may to suggest that one of the world's most successful media moguls may be in any kind of danger I argue in my London Evening Standardcolumn today that his News Corporation business is facing a genuine crisis
7 Oct 2009:
Has Rupert Murdoch lost the plot? As absurd as it may to suggest that one of the world's most successful media moguls may be in any kind of danger I argue in my London Evening Standardcolumn today that his News Corporation business is facing a genuine crisis
5 Oct 2009:
Plan to offer special benefits for a £50 annual fee marks shift from growing audience to making money from regular readers. By Chris Tryhorn

5 Oct 2009:
Peter Wilby:
Never mind its readers, the Sun's effect on other media outlets is all-pervasive, and losing its support is disastrous for Gordon
5 Oct 2009:
The Sun's decision to withdraw its support from Labour just hours after the prime minister's speech raises questions about the media's influence on British politics. By
James Robinson
and
Stephen Brook

5 Oct 2009:
Financial Times, Radio Times and Spectator join the race to make money out of 'apps'. By Richard Wray

4 Oct 2009:
Rupert Murdoch has ordered his lieutenants to fix a price for internet news, but the answer remains stubbornly elusive
4 Oct 2009:
Rupert Murdoch's bestselling tabloid can have only minimal influence on the next general election
2 Oct 2009:
What can David Cameron do for Rupert Murdoch in return for the media mogul granting him support by The Sun?
2 Oct 2009:
Letters:
You are quite right to highlight the dangers to the BBC that would be posed by a Tory government
1 Oct 2009:
Mick Fealty:
The Murdoch press in Ireland is again pushing an anti-EU line – but only half-heartedly as it sees its readers losing interest
1 Oct 2009:
Simon Hoggart:
Golly, Labour loathe the paper that has supported them in the last three elections
1 Oct 2009:
Editorial:
Rupert Murdoch's decision to pull the plug on New Labour as much as nine months before an election may be bad news for Gordon Brown, but it is potentially even worse news for the BBC

30 Sep 2009:
Rupert Murdoch, who once thought David Cameron a 'lightweight', seemed to begin approving of the Tory leader in 2007
30 Sep 2009:
Leader of opposition Labour party voices fears of a 'two-speed Europe'
30 Sep 2009:
Relations between Murdoch papers and government disintegrates as tabloid swings in favour of Tories
30 Sep 2009:
Seumas Milne:
Brown is moving away at last from his embrace of corporate elites, but it is likely to be too late to save his government
30 Sep 2009:
Jonathan Freedland: Conference season 09: Politicians should expect press scrutiny and tough questions. But this sledging of Gordon Brown is ugly and undemocratic
30 Sep 2009:
Brighton conference reacts with standing ovation as Tony Woodley rips up newspaper headlined 'Labour's lost it'

30 Sep 2009:
Harriet Harman launches angry attack on Rupert Murdoch's tabloid for declaring support for David Cameron
30 Sep 2009:
Lance Price:
Successive governments have been in thrall to it. The media is obsessed with it. But who really cares if the Sun won't back Labour?
30 Sep 2009:
With brutish timing, the sleepy old rottweiler of Wapping gnashes its yellow teeth
28 Sep 2009:
PaidContent: Rupert Murdoch claims that readers are 'happily' willing to pay, if publishers get the system right
25 Sep 2009:
Watch this Fox News clip. A Florida law professor, Jeremy Levitt, argues with the right-wing presenter Bill O'Reilly over a claim that the channel has fomented racial tensions in its reports onPresident Obama
More on the Murdoch Empire
Read Media Monkey's diary from the Monday section

Media Monkey's Diary
?The biter, it seems, has been bit. It is only a few short weeks since the BBC came under fire for scheduling Strictly Come Dancing against ITV1's The X Factor, only for the celebrity dance show to take a drubbing in the ratings. Now Top Gear is back on BBC2 but – what's this? – an hour later than its normal 8pm start time on a Sunday night, to avoid a clash with the ratings behemoth that is ... The X Factor. "We had no choice really," said Top Gear producer Andy Wilman. "X Factor on at the same time with the results show, Cowell on storming form, the whole nation glued – we know when to bravely bugger off and wait until the storm passes." If only they had thought of that with Strictly Come Dancing.
?BBC trustee David Liddiment may as well tear up his review of Radio 2 and go home, after the station's star DJ, Chris Evans, had the last word on complaints from commercial radio that the station was targeting too young an audience. Evans, who will take over the breakfast slot in the new year – around the same time that Liddiment is due to publish his findings – bemoaned the "obvious unhealthy lazy arguments from certain members of the media" that Radio 2 had gone too young. "Anybody who works in radio knows that we are not chasing the younger listener, we are chasing the family. Whether you are seven years old or 107 years old ... we're not chasing, that's who we've always aimed Radio 2 at, and I'm very happy to be part of that armoury." Targeting seven-year-olds? It's even worse than commercial radio thought.
?Among the many BBC executives' expenses claims was the £19.13 put through by Richard Deverell, chief operating officer for the BBC's new northern base in Salford, spent on external hospitality "trying to persuade him to join the BBC". We know not who it was, or whether it was successful, but we wonder whether Deverell could have tried a bit harder.
?The London Evening Standard's list of the 1,000 most influential Londoners is not entirely ruthless when it comes to defining a "Londoner", it would appear, containing as it does the likes of Rupert Murdoch, David Beckham, Madonna and California-based Apple designer Jonathan Ive. They are many things, but not necessarily what you would call London-based.
?Monkey has just got over Charles Spencer's review of Anna Friel in Breakfast at Tiffany's ("long stretches of the action in her underwear … a thrilling frisson of eroticism"), only to find the Daily Telegraph theatre critic has been at it again. Spencer, you'll recall, coined the phrase "theatrical Viagra" for Nicole Kidman's performance in The Blue Room. The new object of his affection is Kelly Brook in the theatre version of Calendar Girls. "It's true that Miss Brook seems to find it pretty tricky to walk and talk at the same time," wrote Spencer. "But my, what a delightful eyeful Kelly Brook is, shaking her great mane of golden hair like a proud lioness and covering her modesty with iced buns." Is that a theatre review in your pocket or are you just pleased to see me?
?To the British Society of Magazine Editors awards at the Park Lane Hilton, where the host and resident BBC1 standup comic Michael McIntyre enjoyed lots of fun at the expense of Fabulous magazine until informed it was part of the News of the World. "Oh," he said. "That's my life ruined then." The NME-turned-Top Gear editor, Conor McNicholas, organised the bash and said the next edition of Top Gear will feature the top 10 songs to drive to, admitting it would be made up of the top 10 he was playing in his car. You can take the editor out of NME ...
?Monkey's number of the week: 666,000. The peak audience for Sky1's unfortunate attempts to contact Michael Jackson from beyond the grave with the help of Derek Acorah on the entirely taste-free Michael Jackson: The Live Seance. We always thought it was a bad idea.
http://www.guardian.co.uk/media/mediamonkeyblog/2009/nov/16/media-monkey-diary
15 Nov 2009:
The extraordinary run-in between the Sun and the prime minister over Afghanistan last week was a sign of a more aggressive approach from the tabloid as Rupert Murdoch's son James puts his stamp on the media empire.
15 Nov 2009:
John Naughton: Content is already available free - and consumers never paid a realistic price for it anyway
14 Nov 2009:
Les Hinton, now departed for Dow Jones, would never have allowed the paper to make such intemperate attacks on Gordom Brown
13 Nov 2009:
Bloggers unite in their dim view of Rupert Murdoch and his views on Google, but further job losses at Lloyds reset the dividing line
As the BBC gets more transparent, so do its enemies' motives The BBC has real questions to answer about the salaries of its top executives. But that's not why it's under attack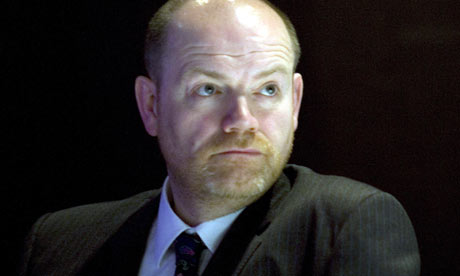 The BBC's Mark Thompson: unlikely to jump ship for ITV. Photograph: Richard Sake
The BBC gets a serious kicking today over the salaries of senior executives – not surprisingly led by the Murdoch press.
The Times splashes: "37 BBC staff earn more than the Prime Minister."The Sun adds: "Oceans of BBC exes." (See what they did there? Mark Thompson stayed in the Las Vegas hotel featured in Ocean's Eleven).
The Telegraph weighs in with: "BBC pays its 100 most senior staff £20m a year." And the Daily Mail adds: "The bloated Beeb: BBC pays out £20m to top 100 'decision-making' executives including the 'outreach boss' (so that's where the licence fee goes)." (The Mail, of course, pictures Jay Hunt because, counter-intuitively, there is nothing the Mail hates more than a successful woman).
In these straitened times, with media organisations cutting back all around, it is easy to target BBC salaries. Thompson argues that the corporation must pay "market rates". That might have been true a few years ago. But it certainly isn't true now. Very few of these execs are likely to jump ship to ITV. And the digital revolution companies may have created some billionaires but, on the whole, they are leaner, smaller organisations than the traditional media behemoths. But once salaries have risen, it is hard to claw them back. Not many people like taking a pay cut.
And now, with the economic meltdown sapping the BBC's commercial rivals, and a Tory government on the horizon, this makes the corporation vulnerable. The "even greater transparency" offered by the BBC in the interests of accountability has just been made into a new stick to beat them with. And allowing Tory MP Philip Davies to say: "It illustrates probably better than anything else than we have ever seen why the BBC's funding needs to be radically reduced to enable it to focus on what it should be doing."
And therein lies the rub. Some BBC salaries may be unnecessarily high. It is ridiculous that 37 BBC staff are paid more than the prime minister. Although maybe that is a reflection of the peculiarly low pay grade afforded the chief executive of UK plc. The BBC is a big organisation that does require a lot of managing.
But the real reason it is getting a caning here is because the Tories have realised that there is a lot of political support to be gained by attacking the BBC. Not as a straightforward votewinner, but by ensuring the support of papers from an organisation with an inbuilt desire to weaken the BBC.
Rupert Murdoch wants to make money from the web. The free nature of the web is his biggest problem. But the fact that there is an enormous news organisation in Britain providing for free a lot of the things that he thinks News Corp should be paid for is also a pretty big stumbling block.
The BBC should be accountable. Perhaps some of its executives are paid too much. But the BBC is also a national asset that shouldn't be beaten up for everything that it does.
And although of course they aren't funded by the licence-payer, it would still be interesting to know how many News Corp executives are paid more than the prime minister.
http://www.guardian.co.uk/media/organgrinder/2009/nov/13/bbc-enemies#start-of-comments

13 Nov 2009:
Prime minister and media tycoon spoke after paper's coverage of 'misspelt' letter to Jacqui Janes

13 Nov 2009:
Sports governing bodies set to protest as former FA executive director confirms proposed expansion of 'crown jewels' list. By
Owen Gibson

Audio

(34min 51sec)

,
13 Nov 2009:
The Sun goes to town on Gordon Brown. Plus, Melvyn Bragg returns to BBC television. And which columnist would you pay to read online? With Matt Wells, Maggie Brownand Steve Ackerman
13 Nov 2009:
David Banks was one of the first print journalists to grasp both the theory and practice of digital journalism

13 Nov 2009:
It makes them look unprincipled and probably won't help them win elections either, saysAlexander Chancellor
12 Nov 2009:
Battle between Rupert Murdoch and No 10 hots up as government prepares to accept review recommendations
12 Nov 2009:
Lola Adesioye: By backing Glenn Beck's wild rant that Barack Obama is racist, Rupert Murdoch is as incendiary as his Fox News pundits

12 Nov 2009:
Joaquin 'El Chapo' Guzman is at 41, beating Medvedev, Sarkozy and Chávez, while Mexico's president misses out
12 Nov 2009:
I generally admire the writings ofChrystia Freeland, the US managing editor of the theFinancial Times, but I haven't much time for her statement applauding the "end of the oversupply of journalism."
12 Nov 2009:
Michael White:
Gordon Brown deserves some sympathy – the fast-spinning news industry is as potentially destructive as the financial markets

12 Nov 2009:
Steve Busfield:
Review of 'crown jewels' events - including The Ashes cricket – comes hot on the heels of the Sun turning on Gordon Brown
12 Nov 2009:
PM's official spokesman attempts to play down significance of call, saying the two men were in regular communication
12 Nov 2009:
Jack Shafer, Slate's excellent media commentator, has seen through the charging-for-content smokescreen erected by Rupert Murdoch in a piece headlined Read between the lies
12 Nov 2009:
Prime minister phoned News Corp chief to complain about paper's campaign against the government's handling of the Afghanistan war. By Roy Greenslade
11 Nov 2009:
Sandra Guzman alleges that Rupert Murdoch's US newspaper fostered a 'hostile work environment'

11 Nov 2009:
News Corporation put on defensive after chief backs Fox News presenter over 'very racist' comment by president. By
Chris
11 Nov 2009:
"Give Brown a break"... "Whilst I have every sympathy with Mrs Janes for the loss