Most Americans have absolutely no idea ……
Vaccinate the World: Gates, Rockefeller Seek Global Population Reduction
By Daniel Taylor
http://philosophers-stone.co.uk/wordpress/2010/09/vaccinate-the-world-gates-rockefeller-seek-global-population-reduction/
The global elite has launched a world-wide operation against an unaware population to reduce and control fertility. Vaccines and even staple food crops have been modified to achieve these goals.
If you can't seem to bring yourself to believe that such an undertaking is possible, or that there are human beings willing and capable; Look back in time, this kind of conspiracy isn't new, in fact this kind of control was idealized by Plato some 2,300 years ago in his momentous work The Republic. Plato wrote that a ruling elite should guide society, "…whose aim will be to preserve the average of population." He further stated, "There are many other things which they will have to consider, such as the effects of wars and diseases and any similar agencies, in order as far as this is possible to prevent the State from becoming either too large or too small."
The activities of the ruling elite in controlling population, writes Plato, must be kept secret. He writes, "Now these goings on must be a secret which the rulers only know, or there will be a further danger of our herd… breaking out into rebellion."
Peering back into the mists of time and history reveal that there is truly nothing new under the sun. What has been done will be done again, and the 21st Century manifestation of global elites have advanced tools at their disposal.
The GAVI Alliance (Global Alliance for Vaccines and Immunization)
The GAVI Alliance, founded in 2000 with the help of the Gates Foundation, has the goal of vaccinating all of the third world. The member organizations of GAVI are listed on group's the website, which include:
"…national governments of donor and developing countries, the Bill and Melinda Gates Children's Vaccine Program, the International Federation of Pharmaceutical Manufacturers Associations (IFPMA), the Rockefeller Foundation, UNICEF, the World Bank Group and the World Health Organization (WHO)."
In December of 2000, David Rockefeller and William H. Gates Sr., among others, (pictured to the right) visited the Rockefeller University campus to take part in a meeting on "Philanthropy in a Global Century". While there, Gates spoke glowingly about his inspiration from Rockefeller in founding GAVI,
"Gates said that 'Taking our lead and our inspiration from work already done by The Rockefeller Foundation, our foundation actually started GAVI by pledging $750 million to something called the Global Fund for Children's Vaccines, an instrument of GAVI.'"
He also praised the Rockefeller family's century of philanthropy, saying, 'It seems like every new corner we turn, the Rockefellers are already there. And in some cases, they have been there for a long, long time.'"



WORLD BANK THREATENS "DRASTIC STEPS NECESSARY" IF NATIONS REFUSE POPULATION REDUCTION IMPLEMENTATION
http://www.infowars.com/world-bank-threatens-drastic-steps-necessary-if-nations-refuse-population-reduction-implementation/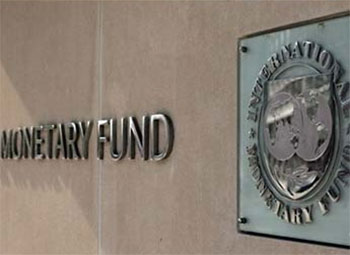 The IMF & World Bank take hostage entire nations
Jurriaan Maessen
Infowars.com
September 2, 2010
It's the eugenicist in the Discover Channel building multiplied by a million. Not simply a lone eco-terrorist saying "parasitic human infants" must die, but one of the largest international financial institutions demanding it. To make the contrast even more remarkable, James J. Lee scared the living daylights out of some Discovery Channel employees, the IMF & World Bank take hostage entire nations.
In its 1984 World Development Report, the World Bank threatens nations who are slow in implementing the Bank's "population policies" with "drastic steps, less compatible with individual choice and freedom."
The report, literally saturated with dehumanizing proposals, is devoted entirely to the World Bank's long-term strategies in regards to population control:
"(…) economic policy and performance in the next decade will matter for population growth in the developing countries for several decades beyond; population policy and change in the rest of this century will set the terms for the whole of development strategy in the next."
To illustrate how serious the World Bank is in achieving the overall strategy objectives on population control, the report does not shy away from outright threats:
"Population policy has a long lead time; other development policies must adapt in the meantime. Inaction today forecloses options tomorrow, in overall development strategy and in future population policy. Worst of all, inaction today could mean that more drastic steps, less compatible with individual choice and freedom, will seem necessary tomorrow to slow population growth."
In the Foreword, then President of the World Bank and 1985 Bilderberg attendee, A.W. Clausen stated:
"(…) although the direct costs of The World Bank programs to reduce population growth are not large, a greater commitment by the international community is sorely needed to assist developing countries in the great challenge of slowing population growth."
"(…) governments can use incentives and disincentives to signal their policy on family size", the report continues. "Through incentives, society as a whole compensates those couples willing to forgo the private benefits of an additional child, helping to close the gap between private and social gains to high fertility."
To give an adequate illustration of the World Bank's preference for all-out government control over the people, and their intent on meddling in people's personal decisions, the following quote will suffice (page 107):
"By taxing and spending in ways that provide couples with specific incentives and disincentives to limit their fertility, government policy can also affect fertility in the short run. Government can offer "rewards" for women who defer pregnancy;it can compensate people who undergo sterilization for loss of work and travel costs; and it can provide insurance and old-age security schemes for parents who restrict the size of their families. Each of these public policies works through signals which influence individual and family decisions- when to marry, whether to use contraception, how long to send children to school, and life expectancy, and whether and how much family members work."
Under the header "Incentives and disincentives" (page 121), the World Bank proposes several more examples of government interference in the affairs of free humanity:
"To complement family planning services and social programs that help to reduce fertility, governments may want to consider financial and other incentives and disincentives as additional ways of encouraging parents to have fewer children. Incentives may be defined as payments given to an individual, couple, or group to delay or limit child-bearing or to use contraceptives. (…). Disincentives are the withholding of social benefits from those whose family size exceeds a desired norm."
The report uses the example of China to make clear such measures can be highly successful if governments would only be willing to implement them:
"With the possible exception of China, efforts to raise the age at marriage by persuasion and edict have not been particularly successful."
"In China the birth rate at the end of 1982 was estimated to be nineteen per 1,000 people, down from forty in the 1960s. The current figure, based on birth registrations rather than on a census, may slightly understate the actual birth rate; but it would still be well below current rates in South Asia, Africa, and most of Latin America."
On page 124, the World Bank report further marvels at the Chinese government's accomplishments:
Fresh food that lasts from eFoods Direct (Ad)
"China has the most comprehensive set of incentives and disincentives, designed (most recently) to promote the one-child family. Since the early 1970s women undergoing various types of fertility-related operations have been entitled to paid leave: in urban areas fourteen days for induced abortion; ten days for tubal ligation; two to three days for insertion or removal of an IUD; and in the case of postnatal sterilization, seven extra days over the normal fifty-six of paid maternity leave."
Bizarrely, the report even goes so far as to suggest introducing "sterilization vans" and "camps":
"Male and female sterilization and IUDs can be made more readily available through mobile facilities (such as sterilization vans in Thailand) or periodic "camps" (such as vasectomy and tubectomy-camps in India and IUD "safaris" in Indonesia)."
Making clear that the overall World Bank population reduction strategy must be implemented in a country-specific manner, the report states:
"The specific policy agenda for each country depends on its political culture, on the nature of the problem it faces, and on what it has already accomplished."
What does have to be global, according to the World Bank, is continuing urbanization: people nicely locked up in massive townships. The report explains:
"Living in small towns does less to reduce fertility than does living in larger cities. That many of these changes take time to have an effect only underlines the need to begin them now. At the same time, other measures that complement and speed socioeconomic change can hasten a decline in fertility."
This report is completely in step with the strategies outlined by the UN, the Rockefeller Foundation, Ford Foundation, World Health Organization and IMF as they move to depopulate the earth in a consorted global effort. The pretexts for fertility reduction given throughout the report are "sustainable development" and "poverty reduction". The truth is, so states the World Bank itself, to introduce and further develop "policy measures to increase people's welfare as well as (and as a means) to reduce fertility."
Eugenics Alert: World Bank Population-Reduction Lending Schemes Already Underway
Following up on yesterday's articleWorld Bank Threatens "Drastic Steps Necessary" if Nations Refuse Population Reduction Implementation, recent reports by the World Bank suggest the "drastic steps" considered necessary are now being implemented.
http://philosophers-stone.co.uk/wordpress/2010/09/eugenics-alert-world-bank-population-reduction-lending-schemes-already-underway/
World Bank "in-country units" will "strengthen" the institutions that distribute the Rockefeller-funded anti-fertility vaccines and GM Food.
According to two subsequent documents put out by the World Bank, new guidelines dictate that in order to qualify for World Bank lending, nations must implement population reduction objectives as outlined by the World Bank and UN Population Fund.
Already tested and implemented in Yemen and Niger, these new guidelines are destined for global implementation within the next decade, says the World Bank.
In the World Bank's Reproductive Health Action Plan 2010-2015, published in April of this year, the Bank structurally speaks of Millennium Development Goals number 5 (or MDG5), which stands for "Reproductive Health" (or RH).
As we know, this is eugenics-new-speak for population control. As pro-death globalist professor John Cleland argued at a 2006 gathering in the company of like-minded individuals from the United Nations Population Fund, the International Planned Parenthood Foundation, the European Commission, the World Bank and Bill and Melinda Gates Foundation:
"It does this cause no service at all to continue to shroud family planning in the obfuscating phrase "sexual and reproductive health". People don't really know what it means. If we mean family planning or contraception, we must say it. If we are worried about population growth, we must say it. We must use proper, straightforward language. I am fed up with the political correctness that daren't say the name population stabilization, hardly dares to mention family planning or contraception out of fear that somebody is going to get offended. It is pathetic!"
The 2010 report put out by the World Bank however, chooses to use this deceptive phrase continually. And, from its dark point of view, it is right to do so- for the resistance against this 21st century eugenics grows steadily. The Bank, just like the UN, has no choice but to cloak itself in deceptive language so as not to raise too much suspicion as they move forward:
"(…) a renewed global consensus on the need to make progress on MDG5, together with greater attention to gender issues within and outside the Bank is refocusing attention on RH and offering an unprecedented opportunity to redress the neglect of the previous decade. Notable among these developments is that in 2007 the UN fully incorporated RH within the MDG framework."
Apart from all the available evidence of a global push for population reduction, The term Global Consensus alone proves it:
"The Global Consensus", says the report, "recognizes that MDGs 4 & 5 will not be reached without country leadership and the prioritization of reproductive, maternal, and newborn health at country level. The Global Consensus proposes a five point plan that includes: (i) political, operational, and community leadership and engagement; (ii) a package of evidence-based interventions through effective health systems along a continuum of good quality care, with a priority on quality care at birth; (iii) services for women and children free at the point of use if countries choose to provide them; (iv) skilled and motivated health workers in the right place at the right time, with supporting infrastructure, drugs, and equipment; and (v) accountability for results with robust monitoring and evaluation."
Yes, They Really Do Want To Reduce The Population –
22 Shocking Population Control Quotes From The Global Elite That Will Make You Want To Lose Your Lunch
http://philosophers-stone.co.uk/wordpress/2010/11/yes-they-really-do-want-to-reduce-the-population-%E2%80%93-22-shocking-population-control-quotes-from-the-global-elite-that-will-make-you-want-to-lose-you
Most Americans have absolutely no idea, but a very dark philosophy is spreading like wildfire among the global elite. This philosophy is an obsessive belief that humanity has become a cancer that is destroying the earth. There are now large numbers of global leaders that are convinced that the exploding population of the world has become like a virus or a plague, and that it must be combated as such. In fact, it would be very difficult to understate just how obsessed many members of the global elite are with population control. The United Nations puts out position papers about it, universities have entire courses dedicated to it, radical population control advocates have been appointed to some of the highest political positions in the world, and some of the wealthiest people on the planet get together just to talk about it. Those who believe in this philosophy are constantly talking about the need for "increased access" to abortion, contraception and other "family planning" services. But even with all of their efforts, the population of the world is still expanding and those who believe in this population control philosophy are getting nervous.
So just who are these people among the global elite who believe so fervently in population control? Some of the names you are about to read below might totally shock you. Many of them are some of the biggest names in the world. For example, Prince Charles gave a major speech just the other day in which he bemoaned the rapidly expanding world population: "I could have chosen Mumbai, Cairo or Mexico City; wherever you look, the world's population is increasing fast. It goes up by the equivalent of the entire population of the United Kingdom every year. Which means that this poor planet of ours, which already struggles to sustain 6.8 billion people, will somehow have to support over 9 billion people within 50 years."
Many among the global elite believe that the growing world population is the number one problem facing the world. Many of them are absolutely convinced that overpopulation is the primary cause of "climate change", is ruining our environment, and threatens to turn the entire globe into one gigantic third world slum.
Of course all of that is nonsense, but this is what they actually believe, and the scary thing is that most of them are in positions of power and influence where they can actually do quite a bit to advance their insidious agenda.
The following are 22 shocking population control quotes from the global elite that will make you want to lose your lunch….
#1) The March 2009 U.N. Population Division policy brief….
"What would it take to accelerate fertility decline in the least developed countries?"
#2) Microsoft's Bill Gates….
"The world today has 6.8 billion people. That's heading up to about nine billion. Now if we do a really great job on new vaccines, health care, reproductive health services, we could lower that by perhaps 10 or 15 percent."
#3) Barack Obama's top science advisor, John P. Holdren….
"A program of sterilizing women after their second or third child, despite the relatively greater difficulty of the operation than vasectomy, might be easier to implement than trying to sterilize men.
The development of a long-term sterilizing capsule that could be implanted under the skin and removed when pregnancy is desired opens additional possibilities for coercive fertility control. The capsule could be implanted at puberty and might be removable, with official permission, for a limited number of births."
#4) George W. Bush's science advisor Paul Ehrlich….
"Each person we add now disproportionately impacts on the environment and life-support systems of the planet."
#5) U.S. Supreme Court Justice Ruth Bader Ginsburg….
"Frankly I had thought that at the time Roe was decided, there was concern about population growth and particularly growth in populations that we don't want to have too many of."
#6) A United Nations Population Fund report entitled "Facing a Changing World: Women, Population and Climate"….
"No human is genuinely 'carbon neutral,' especially when all greenhouse gases are figured into the equation."
#7) David Rockefeller….
"The negative impact of population growth on all of our planetary ecosystems is becoming appallingly evident."
#8) Jacques Cousteau….
"In order to stabilize world population, we must eliminate 350,000 people per day."
#9) CNN Founder Ted Turner….
"A total population of 250-300 million people, a 95% decline from present levels, would be ideal."
#10) Dave Foreman, Earth First Co-Founder….
"My three main goals would be to reduce human population to about 100 million worldwide, destroy the industrial infrastructure and see wilderness, with it's full complement of species, returning throughout the world."
#11) Prince Phillip, the Duke of Edinburgh….
"If I were reincarnated I would wish to be returned to earth as a killer virus to lower human population levels."
#12) David Brower, first Executive Director of the Sierra Club….
"Childbearing [should be] a punishable crime against society, unless the parents hold a government license … All potential parents [should be] required to use contraceptive chemicals, the government issuing antidotes to citizens chosen for childbearing."
#13) Planned Parenthood Founder Margaret Sanger….
"The most merciful thing that a family does to one of its infant members is to kill it."
#14) Planned Parenthood Founder Margaret Sanger. Woman, Morality, and Birth Control. New York: New York Publishing Company, 1922. Page 12….
"Birth control must lead ultimately to a cleaner race."
#15) Princeton philosopher Peter Singer….
"So why don't we make ourselves the last generation on earth? If we would all agree to have ourselves sterilized then no sacrifices would be required — we could party our way into extinction!"
#16) Thomas Ferguson, former official in the U.S. State Department Office of Population Affairs….
"There is a single theme behind all our work–we must reduce population levels. Either governments do it our way, through nice clean methods, or they will get the kinds of mess that we have in El Salvador, or in Iran or in Beirut. Population is a political problem. Once population is out of control, it requires authoritarian government, even fascism, to reduce it…."
#17) Mikhail Gorbachev….
"We must speak more clearly about sexuality, contraception, about abortion, about values that control population, because the ecological crisis, in short, is the population crisis. Cut the population by 90% and there aren't enough people left to do a great deal of ecological damage."
#18) John Guillebaud, professor of family planning at University College London….
"The effect on the planet of having one child less is an order of magnitude greater than all these other things we might do, such as switching off lights. An extra child is the equivalent of a lot of flights across the planet."
#19) Professor of Biology at the University of Texas at Austin Eric R. Pianka….
"This planet might be able to support perhaps as many as half a billion people who could live a sustainable life in relative comfort. Human populations must be greatly diminished, and as quickly as possible to limit further environmental damage."
#20) U.S. Secretary Of State Hillary Clinton….
"This year, the United States renewed funding of reproductive healthcare through the United Nations Population Fund, and more funding is on the way. The U.S. Congress recently appropriated more than $648 million in foreign assistance to family planning and reproductive health programs worldwide. That's the largest allocation in more than a decade – since we last had a Democratic president, I might add."
#21) Clinton adviser Nina Fedoroff….
"We need to continue to decrease the growth rate of the global population; the planet can't support many more people."
#22) The first of the "new 10 commandments" on the Georgia Guidestones….
"Maintain humanity under 500,000,000 in perpetual balance with nature."