Peter Mickelberg-After 34 years of fighting for justice, Peter Mickelberg just wants to be left alone.CREDIT-NINE NEWS PERTH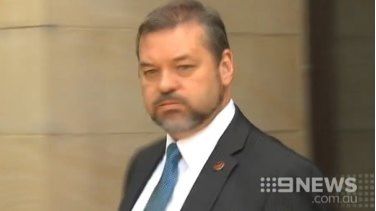 Michael Mischin, Previous Western Australian Attorney General has a long history with the Mickelbergs.CREDIT-NINE NEWS PERTH


The ex gratia deal that stipulated the State pay for the Mickelbergs' Legal Aid was mentioned in this 2008 press release from Attorney General Jim McGinty.
Peter and Ray Mickelberg exit court after another battle.CREDIT:NINE NEWS PERTH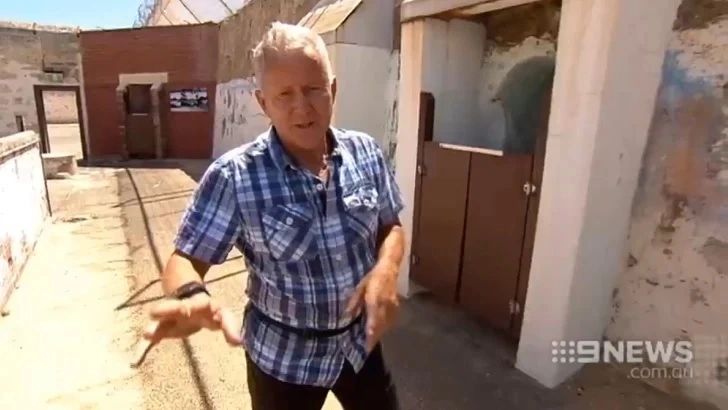 Ray Mickelberg at Fremantle Prison, describing the area where his finger was bitten off completely.CREDIT:NINE NEWS PERTH
Ray and Peter Mickelberg forced to fight another day after Legal Aid bombshell
https://www.watoday.com.au/national/western-australia/ray-and-peter-mickelberg-forced-to-fight-another-day-after-legal-aid-bombshell-20160311-gngwpx.html
And
http://inlnews.com/PerthMintSwindleTheMovie.html
March 12, 2016
The Mickelberg brothers are back... back in the news, back in court and reluctantly back in the spotlight again as bad boys in the eyes of their usual enemies in the legal fraternity.
Framed by corrupt WA police for the 1982 Perth Mint Swindle and wrongly convicted and jailed (Ray for eight and a half years and Peter for just short of seven years), the brothers were given an ex-gratia payment in a 2008 deal made with then Labor attorney-general Jim McGinty on behalf of the state, which included payment of the Legal Aid fees the Mickelbergs needed to clear their names.
"The brothers will receive $500,000 each, which is in addition to the $658,672 they have already received to pay for legal representation during their appeals in 1998 and 2004," Mr McGinty said in a statement in January 2008.
But on March 30, Legal Aid will take Ray Mickelberg to court (Peter is also in its sights), in an attempt to recover $141,000 in payments used to clear his name.
A writ was issued more than two years ago in the District Court but served only recently.
The Mickelbergs are not the mafia but, just when they think they're out, the state pulls them back in.
Legal Aid told WAtoday it would reconsider its action against them if the the Deed of Settlement between the State and the Mickelbergs – missing since the 2008 deal was signed – indicated the funds owed to them were settled as part of the agreement.
This week, a copy of that deed landed in the hands of the Mickelbergs for the first time, via their lawyer Malcolm McCusker QC.
It confirms that Ray and Peter Mickelberg's Legal Aid fees would be paid as part of the deal with the State, a fact Mr McGinty confirmed in a radio interview last week.
"When we determined an ex-gratia payment be made to the Mickelbergs, we took into account the amount of money they had already received by way of Legal Aid to enable them to clear their names, that was about $650,000 and then on top of that we made a payment of $500,000," Mr McGinty said.
"A lot of people at the time thought that was a modest amount for eight-and-a-half years in prison, and that is true because, you need to add to that the amount of money that was paid to them for Legal Aid.
"To see the State now trying to recover part of the settlement that was made by the Mickelbergs.. I was very surprised by that... in fact I find it quite extraordinary they would try to do that."
Perth Mint Swindle investigator Tony Lewandowski and WA police involved in the Mickelberg conviction confessed prior to Lewandowski's suicide that they had perjured themselves in the trial.
"Ex-gratia payments are not often made but when they are they're made because of some horrible wrongdoing by a State official... and in this case it was the fact the police perjured themselves in order to get the conviction of the Mickelberg brothers and that was subsequently confessed to by the police," Mr McGinty said.
"So to try and recover in those circumstances I think is quite extraordinary.
"The State should acknowledge the Legal Aid funding was part of the consideration of the ultimate settlement and drop any recovery action against the Mickelbergs.
"I suspect if it does go to court it will be found to be part of an ex-gratia payment that was made to them and the court will throw out the application by the State to recover this money in any event.
"Why the State would want to put the Mickelbergs, the justice system, through that sort of process, frankly is beyond me."
So who has the power to prevent this latest legal action against the brothers?
"Political responsibility rests with the Attorney General, Michael Mischin, and he should make that call," Mr McGinty said.
"Alternatively the Legal Aid Commission should have a good look at the case and determine they've got no real prospect of success - and it's wrong to proceed in any event - and withdraw the application for recovery."
Mr Mischin, who prosecuted the Mickelbergs when he worked for the Director of Public Prosecutions in the 1980s and 1990s, refused to comment on Legal Aid's recovery efforts.
Peter Mickelberg says Mr Mischin has "a gross conflict of interest" because he prosecuted them and met with Legal Aid prior to them serving the writ against Ray.
"Why did Legal Aid feel the need to approach the Attorney General before issuing action against Ray?" Peter said.
In a letter sent to WAtoday last week, Legal Aid claimed Ray Mickelberg wasn't aware of its attempts to recover the debt until he learned of the writ, but had paid them $5000 in 1994 following written correspondence.
"That statement ... is patently false," Peter told WAtoday.
"[We] are both aware of the demands made by the Legal Aid Commission that we repay alleged debts.
"In fact, I met with (Legal Aid director) George Turnbull and said the alleged debts were not owed by Ray or I, rather they were the responsibility of the corrupt police who fabricated the evidence that saw us jailed for a crime we did not commit.
"The $5000 payment referred to was not paid by Ray. The funds were sent from a lawyer's trust account against Ray's wishes in 1994."
Why Legal Aid did not seek to obtain a copy of the Deed of Settlement remains a mystery.
"We were only supplied with a copy of the deed on Wednesday so there was no opportunity to supply it to the Legal Aid Commission," Peter said.
"Legal Aid, however, has been in direct contact with the Attorney General's office and the office of the Solicitor General and it would have been easy for them to have obtained a copy, if it desired to do so."
The brothers are also perplexed as to why Legal Aid did not contact Mr McGinty, the Attorney General at the time, and the State to inquire about the outstanding alleged debt.
"The issue of whether Mr McGinty considered that the Legal Aid expenses were covered by the ex-gratia consideration is clearly settled by reference to the recent public remarks he made," Peter said.
"Mr McGinty is unequivocal in his public comments, saying that the deal he struck included all legal expenses.
"That deal was formalised by a deed signed by us and Mr McGinty in his capacity as Attorney General and it is open to the Legal Aid Commission to contact Mr McGinty directly and to also make inquiries of the State in relation to this issue."
Peter stressed the brothers were not playing victim but said the action by Legal Aid was distressing for his family.
"I am sure that many people do repay Legal Aid as they should," Peter said.
"I doubt they were victims of a serious miscarriage of justice and received an ex-gratia payment from the state that ... dealt with all outstanding legal matters including Legal Aid."
While Peter's two daughters, aged 19 and 23, have watched their father continually battle law and order authorities their entire life, the stress and drama are new for his five-year-old son.
"He ran to his bedroom crying after seeing a news report that said his father had been in jail," Peter said.
"I know we sound like victims but.. I've got two children who grew up with this crap, and all of a sudden it's back.
"We didn't ask to be treated the way we were by police. They simply do not care about the effect on human life."
Legal Aid silent on accuracy of records
Legal Aid again refused to comment to WAtoday after we challenged several points it raised in the initial letter it sent us about the Mickelberg action.
When Peter Mickelberg met Mr Turnbull on several occasions in 2008 to discuss the Legal Aid debt (before the ex-gratia deal was made), he claims he was told there were no records of their Legal Aid applications on file.
"[But] anytime you get Legal Aid, you are granted a certificate which details how much [the debt is], what it's for and for how long," Mr Mickelberg said.
"Now they have the records, when before they didn't?
"This action by Legal Aid is a gross waste of the public's dollar. Here they are, trying to recoup $141,000 for a case we won based on police corruption."
Peter also claims the March 30 hearing should never have proceeded because the two-year deadline to prosecute the writ to his brother Ray had passed in December 2015.
"Ray rang the court the day it expired and the District Court told him they had struck it off," Peter said.
"But in January 2016, the State Solicitor's office reopened the matter, which it can only do under 'extraordinary circumstances'."
WAtoday understands those "extraordinary circumstances" involve a clerk from the State Solicitor's office who forgot to take relevant documents to the District Court before the deadline passed.
How other victims of WA police corruption fared
While $500,000 seems a lot of money for a wrongful conviction, it's not when you consider the lengths police took to frame Ray, Peter and their other brother Brian.
Brian was released on appeal after nine months in jail but later died in a plane crash; Ray spent eight-and-a-half years in prison and had his finger completely bitten off in the process, while Peter spent almost seven years behind bars – all terms served at the notoriously-violent Fremantle Prison.
The trio weren't cleared until former detectiv Lewandoski confessed in 2002 that he, his boss Don Hancock and other colleagues fabricated evidence and lied in police statements in order to convict the brothers.
"He was a very courageous man, for all his faults... Lewandowski stood up and told the truth, and he paid the ultimate price," Ray told Nine News Perth a few weeks ago.
Though it's been 34 years since the Perth Mint Swindle, there are still people in WA's law and order system who refuse to let the Mickelbergs live in peace.
"The State needs to let this go," prominent lawyer John Hammond told Nine News.
"It's mean-spirited, particularly in light of the deal that was done between the State Government and the Mickelbergs."
Opposition spokesman and lawyer John Quigley said his Liberal counterpart, current Attorney General Michael Mischin, should put an end to the brothers' ordeal once and for all.
"Obviously he'd be biased because he spent so much of his time as a lawyer keeping the Mickelbergs wrongfully imprisoned - on instruction of course - and he should come out and stop this," Mr Quigley told Nine News.
Legal Aid said the Attorney General did not influence its decision to pursue the Mickelbergs because its independence as a statutory authority was "necessary to avoid any conflict with a role which includes providing legal representation for persons who are being prosecuted by the state".
When you consider other ex-gratia payments the State has made to victims of police corruption, you can understand why the Mickelbergs should be livid at this latest action against them.
Andrew Mallard was wrongfully convicted of the 1995 murder of Pamela Lawrence after police withheld vital information from his defence team. He received an ex-gratia payment of $3.25 million from the State in 2009 after losing 12 years of his life behind bars. WAtoday understands Mr Mallard used Legal Aid to help clear his name and was not required to repay it.
Prominent barrister Lloyd Rayney also has a Legal Aid debt of $2 million but was not required to repay it after he was named the "prime and only suspect" in his estranged wife Corryn's 2007 murder, of which he was cleared after a high-profile trial in 2012.
Darryl Beamish ($425,00 for 15 years' jail) and John Button ($460,000 for five years' jail) are other victims of corruption who received ex-gratia payments from the State.
"The terms we made in 2008 with Mr McGinty were that if you don't pursue us, we won't pursue you," Peter Mickelberg said.
"We were preparing to sue the State but they said 'take the $500,000 and we will leave it there'."
Mickelbergs appeal to public for justice
One of Peter's daughters recently set up a Facebook page - Justice for the Mickelbergs - after they learned about the writ against Ray. She hopes crowdfunding will help her father and brother defend the Legal Aid action and avoid Ray Mickelberg losing the family home.
"Your generosity and support is giving Ray and Peter strength to keep up the fight in what is a tough time for both them and their families," the Facebook page says.
On the public appeal on social media, Peter Mickelberg told WAtoday:
"It's totally transparent. It is our intention that if associated costs needed to utilise this are no longer required, we intend to return all the money. "