What do you do if you really don't want to kiss your co-star, but the script demands it? Well, most actors just think of the paycheck and pucker up. The show must go on, after all. Usually, however, the acting fraternity does not kiss and tell until the movie is in the can and the promotional trail has concluded.
And that may indeed be the sensible option, since stories of weird, uncomfortable or even downright unhygienic kisses can certainly take the sheen off great romantic movie magic. However, we now know that these make-out movie moments ended up grossing out their participants.
20. Jennifer Grey and Patrick Swayze (Dirty Dancing)
All things considered, 1987's
Dirty Dancing
is just aching with romantic longing. But, alas, that was far from the case in real life. According to leading man Patrick Swayze's 2010 autobiography,
The Time of My Life
, he and co-star Jennifer Grey "couldn't stand" each other when they first began shooting the movie. "[Grey] rolled her eyes when I stayed in character between takes," Swayze wrote in the book. And yet, despite the animosity, the actors rose above the situation and managed to pull off several convincing kisses.
19. Robert Pattinson and Reese Witherspoon (Water for Elephants)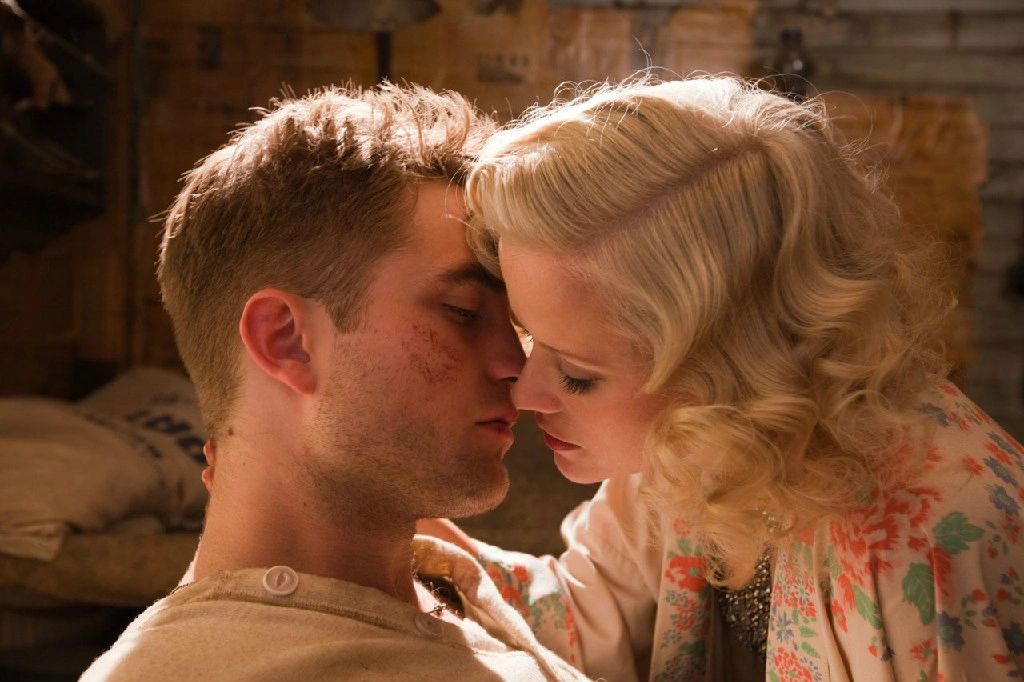 Most of the teenage girls who went to see 2011's Water for Elephants would have killed to have been in Reese Witherspoon's shoes in that movie. Why? Well, she got to kiss the Twilight heartthrob! It wasn't a hot kiss, though, because Pattinson was suffering with a cold at the time of the shoot. Consequently, his co-star thought ill of the whole affair. "He was literally snorting and snotting through every second of it – and it was not appealing," Witherspoon told In Touch Weekly at the time. Ewww.
18. Jennifer Lawrence and Chris Pratt (Passengers)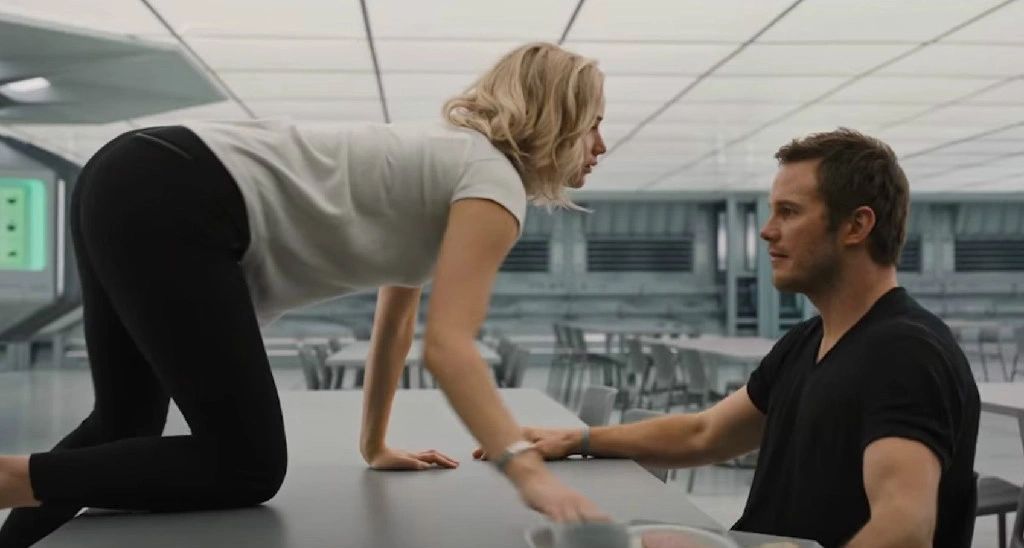 Jennifer Lawrence acted in her first love scene in the 2016 movie
Passengers
, pairing up with hot
Jurassic World
star Chris Pratt. Even so, the smooch was super awkward for the starlet, because Pratt happened to be hitched to Anna Faris. "It was going to be my first time kissing a married man, and guilt is the worst feeling in your stomach," Lawrence told
The Hollywood Reporter
in 2015, not long after she filmed the scene. So what did the actress do in response? Apparently, she "got really, really drunk."
17. Helen Mirren and Harrison Ford (The Mosquito Coast)
Who wouldn't have wanted to kiss Harrison Ford in his prime? Well, Dame Helen Mirren, according to the veteran actress herself. In 1986 Mirren appeared with Harrison in film drama
The Mosquito Coast
, and she was not at all impressed. Speaking to the BBC in 1998, the leading lady said Ford was "the nicest, sweetest guy you'd ever want to meet. But he can't kiss – he finds it impossible to kiss on screen." Rather more cruelly, she added, "He's probably not very good off screen, either."
16. Emma Watson and Rupert Grint (Harry Potter and the Deathly Hallows: Part 2)
Rupert Grint characterized his relationship with fellow Harry Potter star Emma Watson as "brother-sister." So, understandably, when they were called on to kiss on screen in the final Potter movie, it was extremely awkward. "I ended up pouncing on Rupert, I was so desperate to get it over," Watson told MTV in 2009. And apparently her co-star felt the same way. "It just felt very surreal. One take was enough," Grint told
People
magazine in 2016.
5. Will Poulter and Jennifer Aniston (We're The Millers)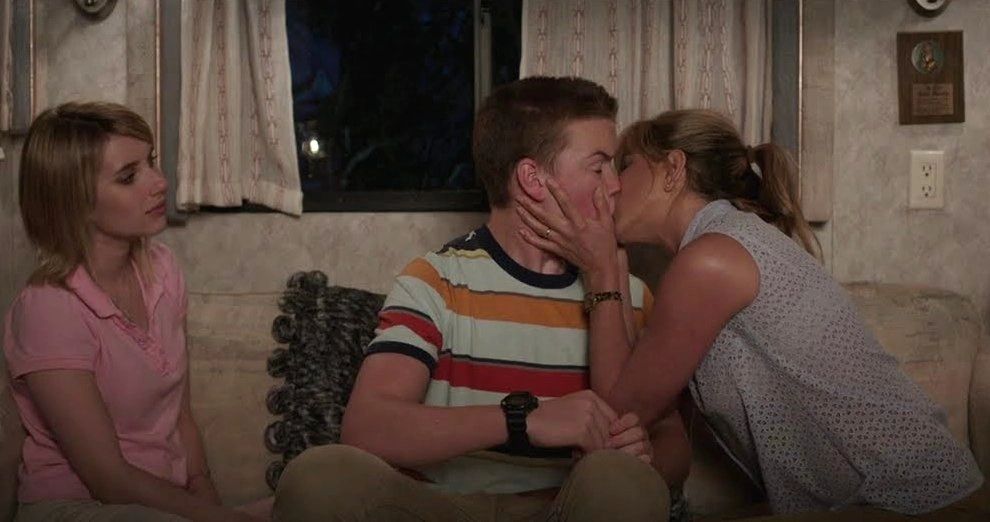 Will Poulter was just 20 years old when he appeared in the 2013 comedy
We're the Millers
; his love match, Jennifer Aniston, on the other hand, was in her 40s. Add into the equation the queasy fact that Poulter was playing a guy pretending to be Aniston's son, and it's perhaps no surprise that the younger star told
Hello
magazine that kissing Aniston was "the weirdest, most awkward thing to shoot" and "a scary blur." Still, it didn't seem to harm
We're the Millers
at the box office, as the movie went on to gross more than seven times its budget.
14. Tobey Maguire and Kirsten Dunst (Spider-Man)
The upside-down smooch between Tobey Maguire and Kirsten Dunst in 2002 superhero film
Spider-Man
quickly became an iconic movie kiss. But, nonetheless, it was not an easy kiss to film; in fact, it sounds like torture. "There was rain pouring up or down my nose. I couldn't breathe, and I was gasping for breath out of the corner of Kirsten's mouth," Maguire informed the media in 2002.
13. Miles Teller and Shailene Woodley (The Spectacular Now)
Rising star Shailene Woodley is big on healthy living and a balanced diet. Unfortunately, this provided a problem when she had to kiss co-star Miles Teller in 2013's
The Spectacular Now
. The actor spoke to journalists about the distasteful subject at a screening of the film in July of that year. Teller told them, "She would take these herbal supplements, these Chinese herbal supplements, and they tasted like crap. And she would always eat them right before we had a kissing scene."
12. Thandie Newton and Tom Cruise (Mission: Impossible 2)
eportedly, Thandie Newton hated kissing Tom Cruise for
Mission: Impossible 2
in 2000. That wasn't because her co-star was impossible to deal with, however, but because of how difficult the actual scene was to film. Newton revealed all to WENN later that same year. "You're lying there, you've got 30 people around you," she explained. "You've got people prodding all bits of you to make sure things aren't being seen, and you keep the sheets up in certain places. Even when you're kissing, you can't kiss too hard."
11. Liam Hemsworth and Jennifer Lawrence (The Hunger Games)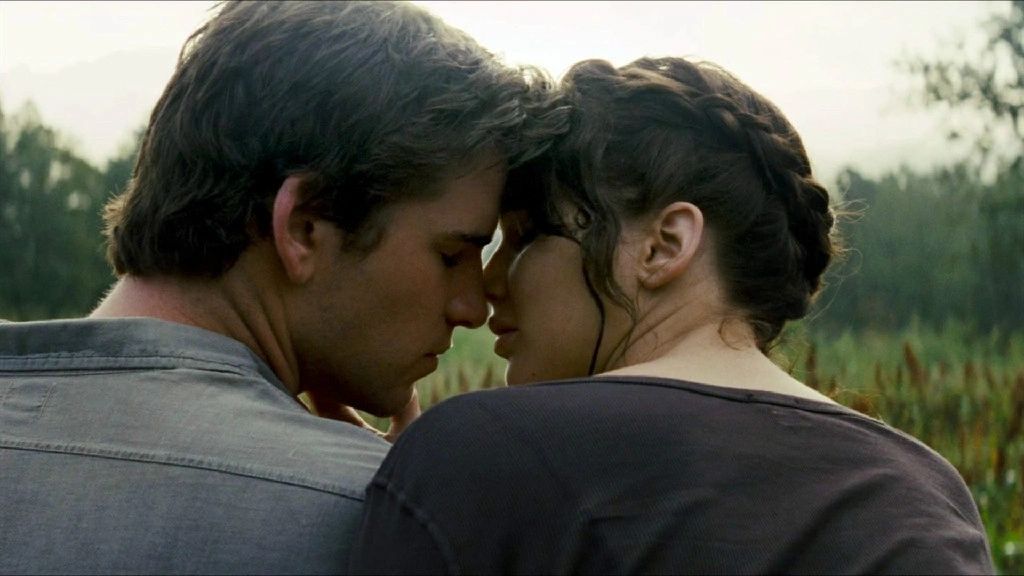 ischievous Jennifer Lawrence was not afraid to mess with male members of the cast when shooting 2008's
The Hunger Games
. And, alas, it was poor Liam Hemsworth who apparently bore the brunt of her pranks, as he would reveal to
The Tonight Show with Jimmy Fallon
in 2014. There, Hemsworth explained, "If we had a kissing scene, [Lawrence] would make a point of eating garlic or tuna fish or something that was disgusting."
10. Hugh Jackman and Nicole Kidman (Australia)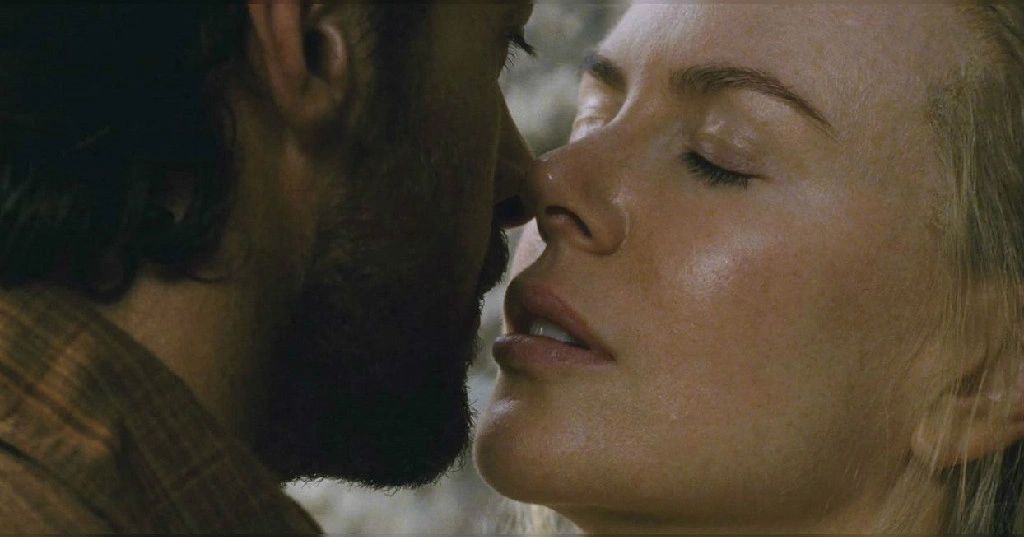 A smooching scene between Hugh Jackman and Nicole Kidman ought to be a swoon-fest, right? Wrong, as the male lead complained to freelance writer Susan L. Hornik shortly after filming the 2008 romantic drama
Australia
. "It's never particularly comfortable making out with someone in front of 70 people," the actor said. But, nevertheless, Jackman also claimed that when his wife saw the scene, she gave him a thumbs-up.
9. Dane Cook and Kate Hudson (My Best Friend's Girl)
In 2014 stand-up comedian and movie actor Dane Cook went on cable TV show
Watch What Happens Live
and was asked to name the worst kisser he had ever worked with. Cook claimed it was Kate Hudson, his co-star in the 2008 rom-com
My Best Friend's Girl
. "I think she purposely ate a feast of onions right before the scene," Cook told host Andy Cohen. "I had to burn her on that one."
8. Kirsten Dunst and Brad Pitt (Interview with the Vampire)
Over the years, countless fans have dreamed about kissing Brad Pitt. And Kirsten Dunst actually got to do it – although she was just 11 years old at the time. In
Interview with the Vampire
from 1994, Dunst played a woman in a young girl's body, and Dunst hated that her character had to kiss Pitt, telling culture website Bullett as much in 2013. Dunst recalled, "I thought it was disgusting. I didn't kiss anyone else until I was 16, I think. I was a late bloomer."
7. Dwayne Johnson and Steve Carrell (Get Smart)
At the end of 2008's spy spoof
Get Smart
, Dwayne "The Rock" Johnson got to smooch funny man Steve Carrell. And, reportedly, Johnson himself was left unamused by the same-sex kiss. Nonetheless, he described it in hilarious detail to WENN later that year. Johnson joked, "The bottom of a cat's paw – the soft, supple part underneath – that's what Steve Carell's lips are like. But his tongue is like kitty-cat litter. That's the physical experience."
6. Helena Bonham Carter and Woody Allen (Mighty Aphrodite)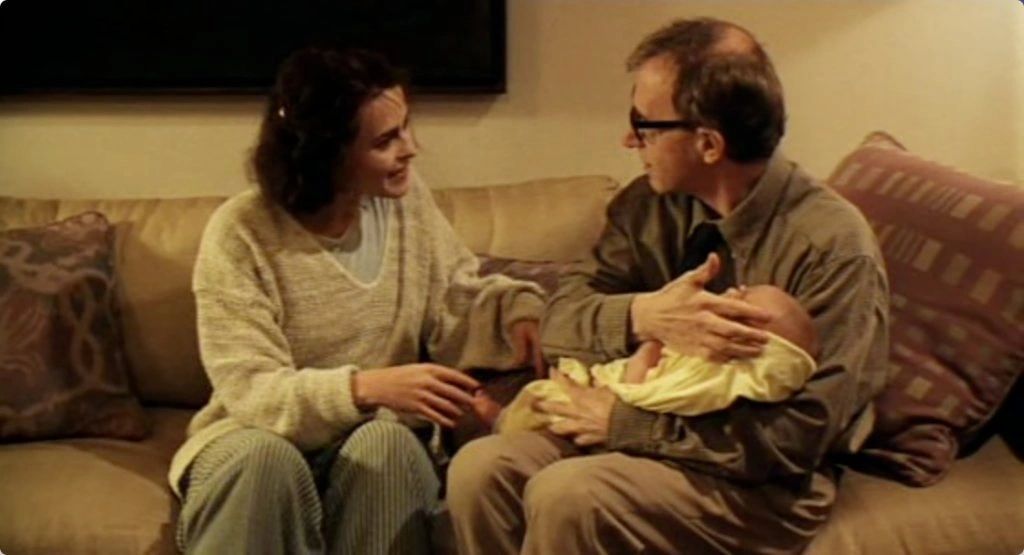 Helena Bonham Carter played Woody Allen's wife in the 1995 movie
Mighty Aphrodite
, which the veteran comedy auteur also directed. Later that year, however, the actress was promoting the movie and was asked by
The Independent
whether she found Allen attractive. And after a telling pause, Bonham Carter answered in the affirmative. But an infamous quote about the kiss is also attributed to the star. At one point, it seems, she told someone that making out with Allen was "like kissing the Berlin Wall."
5. Leonardo DiCaprio and Virginie Ledoyen (The Beach)
Leonardo DiCaprio was a teen heartthrob throughout the 1990s and early 2000s. But Virginie Ledoyen, his co-star in 2000's
The Beach
, had other things on her mind when she kissed him for the movie. In fact, the actress told the
Honolulu Star Bulletin
later that year that her smooch with DiCaprio was in fact "very intimidating." Speaking about an underwater love scene, Ledoyen added, "All I could think about really was not drowning. When you kiss an actor in a scene, Leonardo DiCaprio or whomever, it's not like kissing your boyfriend."
4. Bradley Cooper and Jennifer Lawrence (Silver Linings Playbook)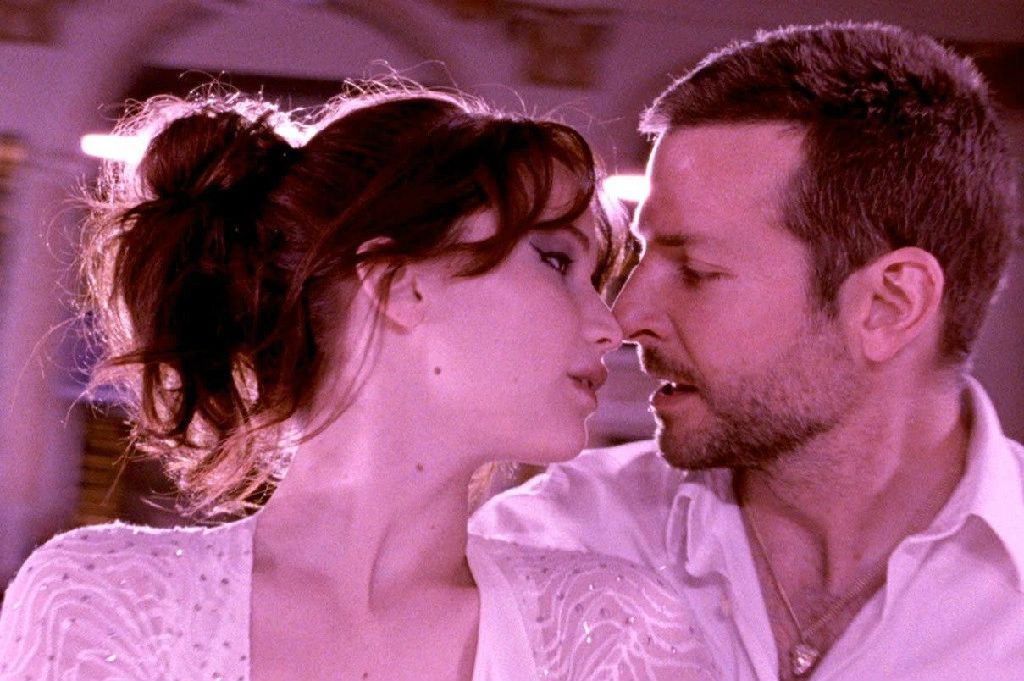 he 2012 movie
Silver Linings Playbook
was nominated for multiple Oscars, including Best Picture. Leading lady Jennifer Lawrence also ended up winning Best Actress for her role in the film – and considering what she went through in the name of art, the Academy Award certainly seems to have been well-earned. Apparently, Lawrence had given her love interest in the film, Bradley Cooper, the kiss off before their smooching scene had even wrapped. Cooper appeared on British TV's
The Graham Norton Show
in 2013 and shamefacedly admitted all. He said, "After the second take, [Lawrence] said, 'You're a wet kisser.' You don't want to hear that. It was not a compliment."
3. Angelina Jolie and James McAvoy (Wanted)
Angelina Jolie and James McAvoy are two spectacularly good-looking human specimens. Nevertheless, it appears that their kissing scene in 2008 thriller
Wanted
was less than thrilling – or even wanted – for at least one half of the dreamy duo. "I can tell you what it was like to kiss her on a film set: it was awkward, sweaty and not very nice," McAvoy told
In Touch Weekly
in 2014. "I don't think Brad Pitt felt threatened for one moment."
2. Sally Field and Tommy Lee Jones (Back Roads)


Evidently, a truly awful kiss can leave a bad taste for a long, long time. After all, Sally Fields locked lips with Tommy Lee Jones in the 1981 rom-com
Back Roads
, and she was able to recall how unpleasant it was 25 years later. Appearing on
Watch What Happens Live
in 2016, Field was asked who her worst kiss was. She immediately replied, "He's probably improved, I don't know – but it was Tommy Lee Jones."
1. Heath Ledger and Jake Gyllenhaal (Brokeback Mountain)
Brokeback Mountain
marked a big turning point when it was released in 2005 – a soaring romantic tragedy that featured two cowboys rather than a man and woman. And the drama was met with no small controversy on release due to its depiction of homosexual love. Furthermore, both leading men admitted that they found the kissing scenes difficult. "It scared the hell out of me," the late Ledger told the BBC in 2005. "And I didn't want to kiss Jake Gyllenhaal, you know?"[/caption]