Click Here For Your Up To Date World Live Sports Scores

Yahoo Money Converter into any currency

Click here to watch great I Player Features from the BBC

 



including

 

The American Future: A History, by Simon Schama:

What is an American?

While the 2008 presidential campaign is in full swing, Simon Schama travels through America to dig deep into
the conflicts of its history to understand what is at stake right now,,,,


International News Limited Domain Pricing Per Year
.com* $9.99 | .net* $9.99 | .org* $9.99 | .info* $9.99 | .us* $9.99 | .biz* $9.99 | .ws* $9.75 | .name* $7.95
Save even more on multi-year registrations!
Visit International News Limited for the best values on: domain names, domain transfers and more!

Click Here For Your Up To Date World Live Sports Scores

INLNews YahooMail HotMail GMail AOLMailUSA MAILYahooMail HotMailGMail AOLMail MyWayMail CNNWorld IsraelVideoNs INLNsNYTimes WashNs AustStockEx 
WorldMedia JapanNs AusNs World VideoNs WorldFinance ChinaDaily IndiaNs USADaily BBC EuroNsABCAust WANs NZNews QldNs MelbAge AdelaideNs 
TasNews ABCTas DarwinNsUSA MAIL

USA Economist 
also see

 

www.YahooUSANews.com

 

and

 

www.YahooUKNews.com 
for world-USA-UK historical Video News for September and October 2008

 




Click here for email login for YahooRealEstate.com.au

all from $9.99


International News Limited Domain Pricing Per Year
.com* $9.99

 

|

 

.net* $9.99

 

|

 

.org* $9.99

 

|

 

.info* $9.99

 

|

 

.us* $9.99

 

|

 

.biz* $9.99

 

|

 

.ws* $9.75

 

|

 

.name* $7.95
Save even more on

 

multi-year registrations!
Visit

 

International News Limited

 

for the best values on:

 

domain names,

 

domain transfers

 

and more!


FULL COVERAGE

  News

 

Iraq  Zimbabe

 

 Myanmar Radovan KaradzicChina 

 

» All Full Coverage

 



ABC News Video 

 

FOX News Video  FOXBusiness Video 

 

CNN Video 

 

AP Video  BBC News Video 

 

Reuters Video 

 

AFP Video 

 

CNET Video
CNBC Video 

 

Australia 7 News Video  

 

Rocky Mountain News Elections Video 

 

CBC.ca Video 

 

NPR Audio 

 


Kevin Sites in the Hot Zone Video
Richard Bangs Adventures Video 

 

Charlie Rose Video  

 

Expanded Books Video 

 

Assignment Earth Video

 


ROOFTOPCOMEDY.com Video

 


Guinness World Records Video 

 

weather.com Video 

 

AccuWeather Video 

 

You Witness News User Video

CBS 11 Dallas  CBS4 Denver  13 News, WVEC Hampton Roads  11 News Houston  CBS 2 / KCAL 9 Los Angeles

WHAS TV11 Louisville  CBS4 Miami  WCCO Minneapolis  WWL-TV, Channel 4 New Orleans  CBS 2 New York

CBS 3 Philadelphia KTVK 3TV Phoenix  KDKA Pittsburgh  KGW NewsChannel 8 Portland, Ore.  WRAL.com Raleigh

CBS 13 / CW 31 Sacramento  KENS 5 - TV San Antonio  Channel 8 San Diego  CBS 5 San Francisco

KING5 Seattle  KREM.com Spokane/Coeur d'Alene  KMOV Channel 4 St. Louis  FOX 11 Tucson
Hi There...Welcome to Yahoo Real Estate Click here for the cheapest real estate advertising on the internet  http://yahoorealestate.co.uk/

STUNTMAN: Jon Templeton will act as Hugh Jackman's stunt double in the film Australia. Picture: MEGAN BRAYLE
YahooMail  HotMailGMail  AOLMail  MyWayMail  CNNWorld  IsraelVideoNs  INLNs  NYTimes WashNs

  AustStockEx  WorldMedia  JapanNs  AusNs  World VideoNs  WorldFinance  ChinaDaily IndiaNs  USADaily  BBC  EuroNs  ABCAust  WANs  NZNews  QldNs  

Every one is dancing at
72Point.com getting ready for the 2010 New Year after a successful 2009 year as the leading PR company in the United Kingdom


Father and Sun: how the Murdoch dynasty handover crippled Labour


James Robinson
James Robinson is Observer media editor. He was previously deputy business editor at the Sunday Express and worked as a reporter for Sunday Business and, before that, the Birmingham Post. He supports West Bromwich Albion


Father and Sun: how the Murdoch dynasty handover crippled Labour

The extraordinary run-in between the Sun and the prime minister over Afghanistan last week was a sign of a more aggressive approach from the tabloid as Rupert Murdoch's son James puts his stamp on the media empire.

James Robinson is Observer media editor. He was previously deputy business editor at the Sunday Express and worked as a reporter for Sunday Business and, before that, the Birmingham Post. He supports West Bromwich Albion
In the 1990s, when the Sun enjoyed unparalleled influence, its editor Kelvin Mackenzie could tell the prime minister John Major that he was about to pour "a large bucket of shit" over him.
Last week's coverage of the Jacqui Janes affair suggests the paper has lost none of its power to intimidate, despite falling sales. Gordon Brown's correspondence with Janes, the mother of a soldier killed in Afghanistan, and his subsequent apology, which was secretly taped, dominated the headlines.
The growth of the internet may hasten the hour when the sun finally sets on Rupert Murdoch's tabloid, but it can still make the political weather.
Peter Mandelson took to the airwaves last week, claiming that Murdoch had done a deal with the Tories, promising slavish support – and unstinting criticism of Brown – in exchange for policy concessions.
Brown's phone call to Janes, meanwhile, was quickly followed by another to Murdoch, whom the prime minister described last week as "a friend". During that conversation, Brown told Rupert Murdoch that the Sun'svitriolic attacks over his letter to Janes had been unwise and unfair. He made his points firmly, but was careful to avoid sounding riled. There is a recognition in government that the electorate is unlikely to vote for a man who is bullied by a newspaper proprietor.
Brown and Murdoch have forged an unlikely friendship, based in part on a shared admiration for America, but the prime minister may have been appealing to the wrong man. Murdoch has handed control of his British operation to his younger son, James, who now oversees the European and Asian arm of News Corp, the media conglomerate his father controls, and is being groomed to take charge of the company. One senior industry source with intimate knowledge of News International, the Murdoch subsidiary that owns his UK papers, said that Murdoch senior is "not really interested in Britain" at all.He has been based in America for many years, but his purchase of theWall Street Journal, now the biggest-selling paper in the US, has kept him busy. He is also gearing up for a fight with Google over copyright, a battle he believes he must win to ensure consumers pay for his newspapers' online content. Murdoch didn't phone the prime minister before the Sun loudly declared it had lost faith in Labour on the day of his speech to party conference, according to the source. That should not be regarded as a snub, he added. Murdoch is simply detached from events in the UK. It was Rebekah Brooks (née Wade), the former Sun editor and now chief executive of News International, who delivered the news of the Sun's U-turn to Peter Mandelson after failing to get through to the prime minister. Brooks's importance cannot be overstated. She acts as a foil for Murdoch, an American who can hardly be expected to share her instinctive understanding of the concerns of Sun readers. She was also behind the paper's increasingly rabid attacks on the Ministry of Defence over the summer, which made the Janes controversy such a compelling story for the Sun.Fleet Street sources point out that Brooks began an email exchange with the MoD several months ago, as her time as editor of the Sun drew to a close.She wanted the department to give her reporters better access to Helmand province, where British troops were fighting and dying as they battled to regain control. The department was not keen on the idea but Brooks persisted. The email requests became demands, and their tone grew more belligerent. Shortly afterwards, when it became clear that the MoD was not willing to cooperate, Brooks told it: "The gloves are off." The Sun's coverage has been hostile ever since, offering unqualified support for British troops while traducing their political masters. Its subsequent decision to ditch Labour and back the Tories gave the Jacqui Janes controversy added impetus. Some senior executives who had not relished supporting Labour in the first place seized on the chance to mount a highly personal attack on a man who represents many policies they detest.Murdoch claimed last week that the decision to abandon Brown had been taken by "the editors in Britain" who "have turned very much against Gordon Brown, who is a friend of mine. I regret it." The 78-year-old has always taken the major editorial decisions at the Sun, and to imply that its new editor, Dominic Mohan, could switch its political allegiance without his consent is, at the very least, disingenuous. Crucially, however, it is James Murdoch who masterminded the timing of the decision to swing behind David Cameron, and set the hostile tone of the paper's coverage. "James is behind the decision to make it tough and bloody because he wants to be like his dad," said one acquaintance.The problem, according to his critics, is that he has his father's aggression but does not share his political instincts. Murdoch junior ran pay-TV giant Sky for five years before his promotion in 2007 and his business acumen is not in doubt, but when Rupert placed James in charge of his British operation, he was expecting him to spend as much time in Westminster as he had in the City. Like his father, the 36-year-old James is firmly on the right, but he subscribes to a particularly trenchant form of free market orthodoxy. Those who know him describe him as a radical libertarian who believes that government should stay out of the public sphere, limiting its role to defence and policing. The News International observer described last week's coverage as "bullying" and "mean-spirited", and suggested it was motivated by a genuine dislike of Brown. "The lunatics are now running the asylum," he said. "Back in the day, an editor might disagree with Rupert, but he was a serious person; there were proper checks and balances. If they went over the top Rupert would pull them back." There is little doubt that the Sun's support will give Murdoch leverage over a Conservative government, and that power is already being used. Brooks is thought to have told Andy Coulson, the Tories' director of communications, that the paper could not back David Cameron while Dominic Grieve remained shadow home secretary. He was replaced by Chris Grayling shortly afterwards. Few were surprised when the paper backed Cameron, but James Murdoch's decision to do so long before an election, and risk the ire of an administration that will still be in power for many months, was a bold move. Government sources deny it took revenge on Murdoch last week by placing Ashes cricket matches between England and Australia — currently broadcast by Sky — on the list of "crown jewels" that must be broadcast free-to-air, but it was a timely reminder of how it can make life difficult for the Murdoch empire. Nor is there any hope of a reconciliation. Brown has tried to woo James, said a senior political source, but with little success: "Despite Brown's efforts there is no personal connection between the two men like there was with Rupert." Cameron, in contrast, was quick to cosy up to James, and cemented those ties by hiring the former News of the World editor Coulson, who is close to Brooks, and is also a friend of Mohan. Along with Brooks's new husband, racehorse trainer Charlie Brooks, they form a coterie who occasionally socialise at weekends in north Oxfordshire, where the Brooks have a home – as does James's sister, Elisabeth, with her husband, Matthew Freud. Cameron's constituency is also in the county. The Labour party has tried to portray the Tory leader and his new friends in the press as a wealthy, impenetrable clique, although Labour's own relationship with News International is also built largely on a network of fragile friendships. There are rumours of a loss of nerve at the Sun, meanwhile, following a public backlash over its personal attack on Brown. The fact that it spelt Janes's name wrong on its website is acutely embarrassing. Murdoch is heavy-hearted about abandoning Brown. He is not convinced by Cameron, but he know it makes good business sense to back him. In the end, that is the only consideration that really counts
A peek inside News International's new £350m print plant in Broxbourne, Hertfordshire
http://www.guardian.co.uk/media/video/2009/jul/14/news-world-new-evidence
Documents produced by Nick Davies involve senior News of the World journalists in Mulcaire affair
Murdoch must turn Fleet Street into Quality Street if he wants us to pay
http://www.guardian.co.uk/technology/2009/nov/15/rupert-murdoch-google-content-payment
Content is already available free - and consumers never paid a realistic price for it anyway
Rupert Murdoch's declaration, in an interview with Sky News, that he was thinking of barring Google's search engine from indexing all of News Corporation's websites, had a magnificent Canutian ring to it and got the blogosphere in a tizz. Some commentators saw it as an early sign of dementia; others interpreted it as an invitation to Microsoft to do an exclusive deal.
Cory Doctorow, for example, thought Murdoch is "betting that one of Google's badly trailing competitors can be coaxed into paying for the right to index all of News Corp's online stuff if that right is exclusive. Rupert is thinking that a company such as Microsoft will be willing to pay to shore up its also-ran search tool, Bing, by buying the right to index the fraction of a fraction of a sliver of a crumb of the internet that News Corp owns".
The prevailing sentiment however can be summed up as a paradox: nobody thinks that a "screw-you-Google" strategy makes sense, but they assume that Murdoch knows something they don't, and that the strategy will make sense when all is revealed. In that way, the Digger is rather like Warren Buffett: his past investment record is so good that people are wary of questioning his judgment.
I have no idea what Murdoch's thinking, but I know what he's thinking about, and that's "content". Everyone's thinking about it too. Content takes many forms – news, opinion, features, audio, video, images – but they can all be lumped into one broad category: information goods.
These goods cost money to produce, so the producers need to earn revenues from them. Until recently, that was relatively easy to do, which is how owners of newspapers, magazines, broadcasting networks, record labels and movie studios became rich and powerful.
This happy state of affairs, however, is terminally challenged in a networked world in which people expect to access information goods for free and where perfect copies can easily – and illicitly – be made. Therefore, the Murdoch argument runs, we must return to the world as it used to be, where people are forced to pay for content.
But if you want to return to the past, it makes sense to understand it, and here we run into some puzzles. Take the notion that, in the good ol' days of print, customers paid for content.
Shortly before writing that sentence I was handed a copy of the LondonEvening Standard, which contained lots of "content" but was, er, free. And although this is the most conspicuous example in the UK of printed content being given away, free newspapers have been thriving for decades. The only thing that marks out the Standard from a provincial freesheet is that its content is of a higher class. So even in the newspaper world, lots of content has been free for ages.
But surely people who buy the Sun, Telegraph, Mail and Times are paying for content? Maybe they are, but we'd need to know what proportion of those publications' revenues came from cover sales rather than from advertising to know how much their readers are actually paying for the content. If newspapers had to recoup the costs of content-creation solely from retail sales, cover prices would be a lot higher and circulations correspondingly lower. So let's not kid ourselves: even in the print days consumers weren't paying anything like a realistic price for content. Why should things be any different in an online world?
But what to charge? Here the print world gives contradictory advice, as a visit to www.newsstand.co.uk will show you. On the one hand, theEconomist sells there for £4.29 an issue and the New Yorker for £4.92, whereas Nuts costs £2.47 and Zoo is £2.37. Quality content clearly commands a higher price.
But why is Ideal Home £6.65 per issue and World of Interiors £5.85? There's no real rationale here, beyond charging what different markets will bear. In the print world, in other words, higher prices could be justified by having better content – but also just by having glossier layout, heavier paper, better colour reproduction, etc.
The trouble is that glossy production values don't cut much ice online. We're moving to what essayist Paul Graham calls "post-medium publishing" (bit.ly/ZBhb8), where the intrinsic quality of the content will determine what people will to pay. If the Digger really wants to charge for his stuff, it had better be good.
http://www.guardian.co.uk/media/2009/nov/14/peter-preston-sun-gordon-brown
The Sun got too hot without its coolest head
Les Hinton, now departed for Dow Jones, would never have allowed the paper to make such intemperate attacks on Gordom Brown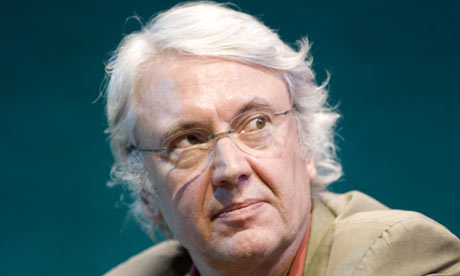 23 Oct 2009:
Barely a day passes in which a story doesn't emerge about Rupert Murdoch'sdetermination to charge for content. If he isn't speaking about it himself, his senior executives are doing so
23 Oct 2009:
Richard Branson, founder of the Virgin Group, has attacked Rupert Murdoch's dominance, through BSkyB, of the UK's pay television market
23 Oct 2009:
News Corp boss says US television site Hulu could stage an abrupt turnaround and begin charging viewers to watch online
22 Oct 2009:
John McQuaid: Instead of defending Fox News as one of their own, the US media should join the White House's war against the network
22 Oct 2009:
Media companies may be suffering from recessionary woes, but there is no shortage of bidders for the Travel Channel, the satellite and cable network

21 Oct 2009:
Far-right party leader claims Question Time appearance will be 'a stage-managed farce'
21 Oct 2009:
A survey among 2,000 Britons found that paid content has not much of a chance in the UK
19 Oct 2009:
There are, naturally enough, all sorts of rumours about Rupert Murdoc
h's exact plans for erecting paywalls on his Wapping newspaper websites
19 Oct 2009:
Rupert Murdoch is clearly determined to ensure that nothing produced by his media group is going to be free. He said that News Corporation would be seeking fees from American cable and satellite operators to carry his Fox TV network
19 Oct 2009:
This is not personal | Getting the Humph | Political U-turn

19 Oct 2009:
The company is outflanking online publishers by providing access to a network of 1,300 quality sites, attracting 110m unique users a month
18 Oct 2009:
Murdoch station finds allies among liberal American media after White House attack
16 Oct 2009:
News Corp annual meeting highlights tensions between Fox News and White House
16 Oct 2009:
Though I am late in pointing to these pieces they deserve as wide an audience as possible within the media world
14 Oct 2009:
Michael Tomasky: Fox News is clearly an arm of the Republican party. Obama is right to throw caution to the wind and treat it as such
14 Oct 2009:
Seen from the outside the saga of the London newspaper war over the past couple of years looks decidedly odd. That's reflected well in an excellent piece by Philip Stone
12 Oct 2009:
Rupert Murdoch's daily business newspaper, the Wall Street Journal, is expected to be named as the largest US paper by weekday circulation when the latest ABC figures are released in a couple of weeks time
9 Oct 2009:
Rupert Murdoch is determined to make search engines pay for content. Along with Associated Press chief Tom Curley, he called for online outlets using editorial material to pay for it
7 Oct 2009:
Has Rupert Murdoch lost the plot? As absurd as it may to suggest that one of the world's most successful media moguls may be in any kind of danger I argue in my London Evening Standardcolumn today that his News Corporation business is facing a genuine crisis
7 Oct 2009:
Has Rupert Murdoch lost the plot? As absurd as it may to suggest that one of the world's most successful media moguls may be in any kind of danger I argue in my London Evening Standardcolumn today that his News Corporation business is facing a genuine crisis
5 Oct 2009:
Plan to offer special benefits for a £50 annual fee marks shift from growing audience to making money from regular readers. By Chris Tryhorn

5 Oct 2009:
Peter Wilby:
Never mind its readers, the Sun's effect on other media outlets is all-pervasive, and losing its support is disastrous for Gordon
5 Oct 2009:
The Sun's decision to withdraw its support from Labour just hours after the prime minister's speech raises questions about the media's influence on British politics. By
James Robinson
and
Stephen Brook

5 Oct 2009:
Financial Times, Radio Times and Spectator join the race to make money out of 'apps'. By Richard Wray

4 Oct 2009:
Rupert Murdoch has ordered his lieutenants to fix a price for internet news, but the answer remains stubbornly elusive
4 Oct 2009:
Rupert Murdoch's bestselling tabloid can have only minimal influence on the next general election
2 Oct 2009:
What can David Cameron do for Rupert Murdoch in return for the media mogul granting him support by The Sun?
2 Oct 2009:
Letters:
You are quite right to highlight the dangers to the BBC that would be posed by a Tory government
1 Oct 2009:
Mick Fealty:
The Murdoch press in Ireland is again pushing an anti-EU line – but only half-heartedly as it sees its readers losing interest
1 Oct 2009:
Simon Hoggart:
Golly, Labour loathe the paper that has supported them in the last three elections
1 Oct 2009:
Editorial:
Rupert Murdoch's decision to pull the plug on New Labour as much as nine months before an election may be bad news for Gordon Brown, but it is potentially even worse news for the BBC

30 Sep 2009:
Rupert Murdoch, who once thought David Cameron a 'lightweight', seemed to begin approving of the Tory leader in 2007
30 Sep 2009:
Leader of opposition Labour party voices fears of a 'two-speed Europe'
30 Sep 2009:
Relations between Murdoch papers and government disintegrates as tabloid swings in favour of Tories
30 Sep 2009:
Seumas Milne:
Brown is moving away at last from his embrace of corporate elites, but it is likely to be too late to save his government